2014 Infiniti Q50, Q50 Hybrid at the 2013 Detroit Auto Show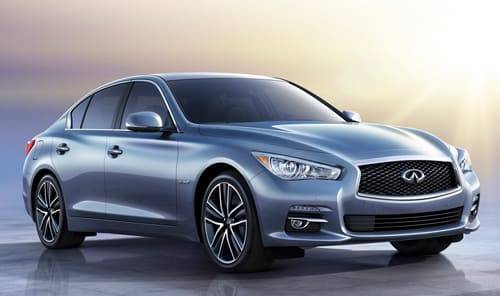 Competes with: Audi A4, Lexus IS, BMW 3 Series, Mercedes C-Class
Looks like: New look and no manual transmission … G37 owners might stay away
Drivetrain: 328-hp, 3.7-liter V-6, seven-speed automatic transmission, rear or all-wheel drive; 354-hp combined 3.5-liter V-6 hybrid
Hits dealerships: This summer
There is no question that Infiniti's entry-level G37 sedan needed an update despite its much fawned over performance chops. The interior was looking dated, and its superb handling and sporty ride alienated shoppers looking at stalwarts from BMW, Mercedes and Audi.
More 2013 Detroit Auto Show Coverage
Now called the Q50, the sedan is completely redesigned, but it has an identical wheelbase to the outgoing G37 while overall length is marginally longer and the height is down less than a half inch. The Q50 is 2 inches wider, however.
The look, though, is radically different, mimicking the larger M37 sedan but with slightly smaller dimensions. It's not an instant hit at first glance, but it could easily grow on people.
Under the Q50's hood is the identical 3.7-liter V-6, which most of our editors love, putting out the same 328 horsepower as the current G37; it's teamed to a seven-speed automatic transmission. Seventeen-inch alloy wheels are standard, and 19-inch sport wheels are available.
The big surprise is the introduction of a hybrid, which is simply called the Q50 Hybrid. Infiniti added an "h" to the M series to denote the M35 hybrid, the M35h. BMW makes a hybrid version of its 3 Series sedan, but the Q50 Hybrid makes just two in the class.
This powertrain teams a 296-horsepower, 3.5-liter V-6 with a 50-kilowatt electric motor for a combined 354 hp. No mileage figures were given for either model.
What isn't a surprise is the abundance of technology Infiniti has jammed into the Q50.
On the driving side, there's the optional Infiniti Direct Adaptive Steering. It transmits each tires angle and steering inputs for improved driving feel. Steering settings can also be customized in terms of steering effort and the steering gear ratio. If you opt for this system, Infiniti also includes a backup mechanical steering system.
Active Lane Control uses cameras to keep you driving straight but not just when you've wandered too far in your lane. It does that, too, but also makes smaller adjustments to keep you driving straight in cases of crosswinds and road imperfections.
The technology spreads across the all-new cabin, too. Like some new Honda designs, the Q50 features two touch-screens in the center of the dashboard. Both are capacitive touch and can work independently or in tandem, so a map can be shown on the top screen while a destination's address is input in the lower screen. Infiniti says they can be operated by using "intuitive hand gestures," but we're not sure what that means. We'll have to see it work in person before weighing in on how it measures up to similar systems from Lincoln and Cadillac.
Interior dimensions weren't provided, but Infiniti says the trunk is 18.0 cubic feet, which is incredibly large for the class, and 14.1 cubic feet for the Q50 Hybrid. The BMW 3 Series sedan is rated at 13.0 cubic feet; the Audi A4 has 12.4 cubic feet of trunk space, and the outgoing G37 has 13.5 cubic feet.
The Q50 looks to be an impressive upgrade from the G37 in many areas, and the company promises more powertrains will be introduced.