2014 Infiniti Q50: Up Close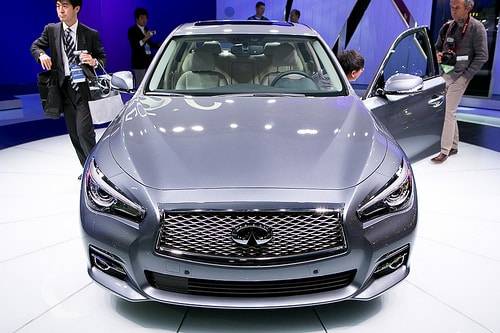 Infiniti's first Q-badged car since 2006 is actually a successor to the smaller G37, thanks to a change in the brand's naming conventions. In person, the Q50 is a handsome car with nice, athletic curves and a grounded stance. Though the front end looks sporty, Infiniti representatives say this show car isn't a final production vehicle and combines some other sport elements — such as the 19-inch wheels — with a standard nose. The final Sport trim level's nose will be more aggressive.
More 2013 Detroit Auto Show Coverage
If there's a complaint, it's that Infiniti has pinched the grille even further on this model, which makes it start to resemble a more symmetrical version of the Lexus "spindle" grille.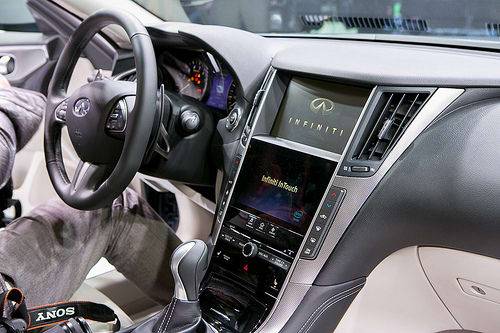 The goodies are on the inside, though. The materials are lush and, in the car here at the auto show, rather contemporary with aluminum trim in both smooth and patterned surfaces. There's none of the maple trim that will also be offered in the non-Sport version.
The highlights to me are in the center control panel. Automakers keep moving their displays farther up so they're close to one's line of sight, but this often puts them too far to reach easily, requiring a knob controller down low — even though touch-screens are easier to use for input. Infiniti's solution: a high touch-screen for maps, etc., and a lower one for control purposes. To me, the lower screen is absolutely within easy reach.
Even better, the lower screen is flanked by columns of real mechanical buttons that control climate rather than capacitive ones. Fantastic.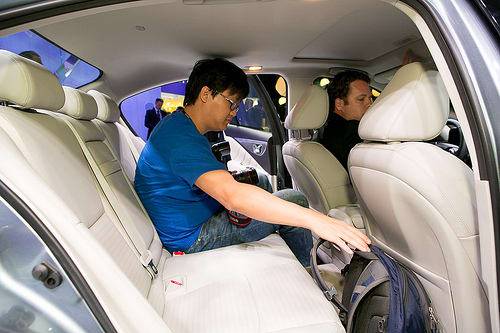 I found the backseat reasonably roomy, with a couple inches of headroom to spare (I'm 6 feet tall), though the center floor hump is characteristically high and makes the center seat of questionable usability.
The car shown is a hybrid, which is one of two powertrains offered. As a result, it has a smaller trunk, but it doesn't seem too small; the rear end is tall, making for usable space. A folding backseat is not possible, though.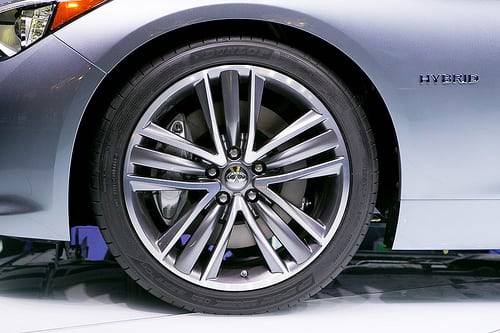 Mostly I'm interested in driving the car, for two reasons: One, it has the first-ever by-wire steering system (with a mechanical backup). My experience with by-wire anything has been overwhelmingly negative. The other reason's a positive one: The mode selector now adds to the predetermined modes a Custom setting that allows the driver to configure his or her preferred combination of drivetrain, steering and other behaviors, which is similar to the configurable buttons seen on some German luxury cars. Good stuff.