2014 Subaru Forester Rises Seven Spots in Small-SUV Affordability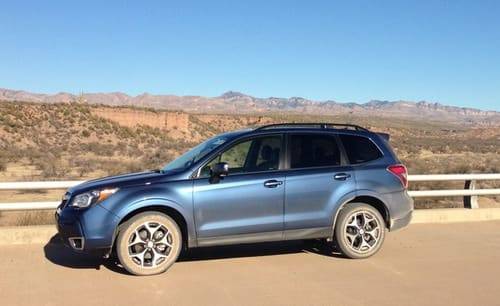 A few weeks ago we threw the redesigned Toyota RAV4 into our compact crossover affordability index, and the popular Toyota ranked right around the group's average. Subaru fans may notice the outgoing 2013 Forester sat near the bottom, largely because the small SUV got mediocre gas mileage and required stepping up a trim level to get a telescoping steering wheel — one of seven features we included in our pricing scheme.
Our affordability index compared 13 models — each was the least expensive trim level that included common equipment like an automatic transmission, Bluetooth connectivity, steering wheel audio controls, cruise control, remote keyless entry, a USB/audio jack port and tilt/telescoping steering. We also factored in the destination charge and four years of gas.
With its 2014 redesign, the Forester moved up seven spots, thanks to more standard features and better gas mileage. In fact, the new Forester is the third most affordable compact crossover on the market, behind the Mazda CX-5 and Mitsubishi Outlander Sport — and it has standard all-wheel drive.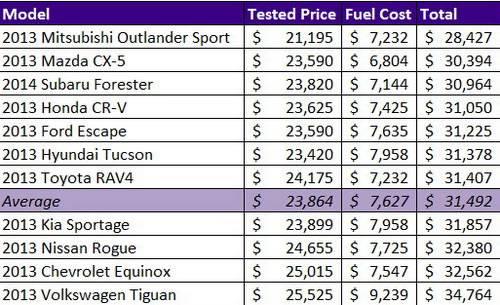 *Based on 45% highway, 55% city driving, 15,000 annual miles and current national average fuel prices: $3.22 a gallon for regular gasoline, and $3.54 a gallon for premium on the Volkswagen Tiguan. All prices include the manufacturer's destination charge. The Nissan Rogue does not offer a telescoping steering wheel.
If you need all-wheel drive, the Forester effectively advances one spot. The all-wheel-drive CX-5 still exceeds the Subaru, but the Outlander Sport's all-wheel-drive option moves it to just over $30,000 — still enough for a first-place finish.
The base Forester comes with a manual transmission, so we added the standalone continuously variable automatic transmission option ($1,000, down from last year's $1,200). Apart from that, it comes competitively equipped but several competitors — the CX-5, Outlander Sport, Sportage and Equinox — have standard alloy wheels, and the RAV4 and CR-V have a standard backup camera. But the Forester has all the basics, and the step-up 2.5i Premium trim (another $2,000) adds both features, among other extras.
Related
Is the 2013 Toyota RAV4 the Most Affordable Compact Crossover?
2014 Subaru Forester Starts at $22,820
More Automotive News