2014 Toyota Corolla: Up Close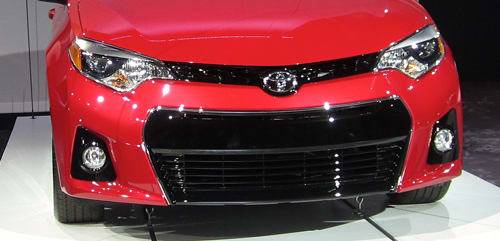 With a more chiseled exterior, the 2014 Corolla is ready to be more than a frumpy commuter, and it now can compete with Honda Civic, Kia Forte and Ford Focus, all recently redesigned. The Toyota Camry's design cues are noticeable on the Corolla, especially in the rear; the two cars' taillights are almost identical.
The Corolla's exaggerated grille breathes some youthfulness and personality into the face of what was once one of the blandest-looking compacts. The wheels on the sportier S model particularly impressed; they're reminiscent of some of the more forward-thinking designs seen in the Kia lineup.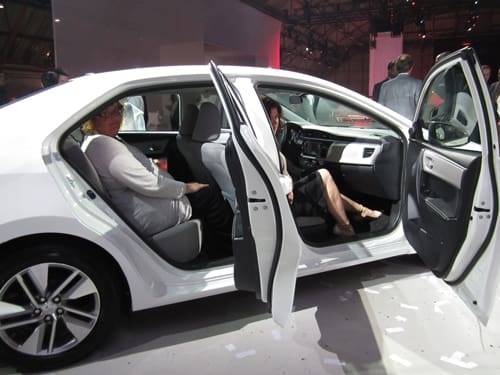 Its interior features details such as contrast stitching, a leather-wrapped dash and a touch-screen; all are similar to those featured in the redesigned 2013 Toyota RAV4. The faux leather is a welcome replacement to the dated velour upholstery in the previous generation.
When I tested the 2012 Corolla, things got really tight when passengers came along for the ride. The new Corolla is definitely roomier inside, and I experienced it firsthand at the debut. I sat in the backseat and my knees didn't touch the seatback, even when the front seat was slid all the way back. This wasn't the case in the previous-generation Corolla.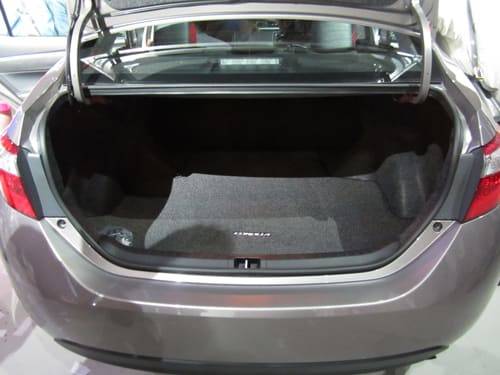 Despite the improved legroom, it's still more realistic to count on only hauling four passengers in this five-seater. The overall width remains close to that of the previous generation's 69.4 inches with just a 0.63-inch increase, making it a tight squeeze for anyone sitting in the middle seat.
The 2014's trunk looks roomier, though Toyota hasn't released these numbers yet either. Luggage, single strollers and sports equipment should be accommodated with ease.
I'm looking forward to finding out if the 2014 Corolla lives up to its looks during a test drive. It goes on sale this fall.
Related
2014 Toyota Corolla: First Look 
Toyota Corolla Furia Concept at the 2013 Detroit Auto Show 
More Toyota News