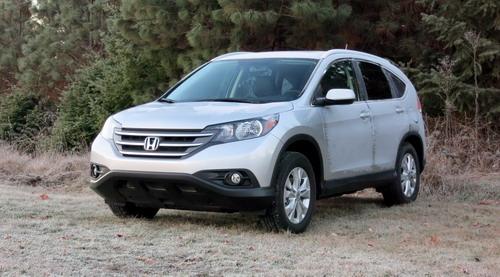 Gas prices may have fallen a bit recently, but fuel economy is still a top concern for car shoppers. Have automakers caught up on the gas-mileage front? I observed 31.5 mpg on the trip computer over some 230 highway miles in an all-wheel-drive 2014 Honda CR-V during a mid-January trip — the sort of mileage that, 10 years ago, you might have needed a four-cylinder Honda Accord to get.
But wait. There's more.
2014 Subaru Forester: Real-World Mileage
My wife and I took to the Pacific Northwest in an EX-L tester, piling more than 600 miles on the SUV around Seattle and north-central Oregon. I logged mileage on CR-V's trip computer during the major highway portions of the week — some 230 miles each way, north and south, along the Interstate 5 corridor between Seattle and Dallas, Ore., with speeds between 65 and 75 mph.
On the southbound trip, I observed 31.5 mpg with mixed usage of the CR-V's Econ mode. On our northbound return, I drove without Econ and observed 29.6 mpg — still impressive, given our car's 22/30/25 mpg city/highway/combined EPA rating.
Econ mode relaxes accelerator response, cruise-control operation and air conditioning to preserve fuel, but Honda "can't say a specific [percentage] improvement expected in Econ mode because we're only permitted to state EPA numbers by law," spokesman Chris Martin later told me.
Want the nitty-gritty? Read on:
During the highway legs, I used plenty of cruise control and left the climate control on automatic mode both ways, adjusting cabin temps between 66 and 72 degrees. During the southbound highway leg, outside temperatures ranged from 40 to 48 with light winds (crosswinds and headwinds from 0 to 8 mph) according to hourly data from The Weather Channel at four points along the interstate. The northbound leg had temps between 38 and 44 degrees, but winds helped out, with slight tailwinds (4 mph) balancing out headwinds (5 mph), per TWC data.
No doubt Econ mode helped the southbound journey — but so did the wind, albeit slightly. In total, between receiving the car and filling up before its return, I logged 610 miles on the CR-V. Two separate fill-ups totaled 21.73 gallons of fuel; that works out to 28.1 mpg in calculated fill-up mileage.
Why the discrepancy? Remember, the highway stretches weren't the whole trip. Specifically, the trip-computer observations included two occupants (my wife and me) plus our overnight luggage. They did not include some 65 miles logged in the Seattle area alone, a 57-mile stretch in central Oregon with four occupants and no luggage or a 15-mile stretch in Seattle packed with tailgating gear (yes, we attended that game). The CR-V also idled for around 45 minutes, mostly for photography — also unaccounted for in the highway trip-computer observations.
Throw in all those factors, which should universally ding fuel economy, and the observed fill-up mileage still beat the CR-V's combined EPA figures by around 12 percent. Not bad.