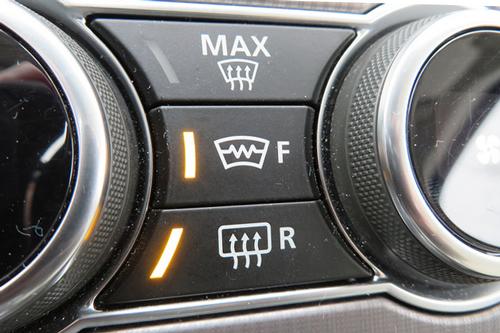 Across its lineup, Land Rover offers a heated windshield that uses a series of thin filaments embedded in the glass that you have to train yourself to ignore. I've always tested Rovers in fair weather and found the filaments distracting. That is, until winter came knocking in the Denver area. I was surprised how easy the heated windshield made cold mornings, especially when the temperature was 3 below zero and I had to drive my kids to school.
2014 Land Rover Range Rover Sport Video
In fact, I was almost excited to start the 2014 Land Rover Range Rover Sport HSE and watch the ice melt off the windshield without using any elbow grease. The feature is part of the Front Climate Comfort and Visibility Package that costs $1,980. Although on the pricey side, it's especially nice that the heated windshield clears the whole glass, so there are no annoying distractions while on the road. It only took a few minutes for it to melt some serious ice, and I loved driving during a nasty snowstorm just to mock it through my clear windshield.
The Range Rover Sport's battle against winter weather doesn't end there. Winter Wiper Park is one of those sneaky features buried deep in the information system, which is accessed in the Range Rover Sport's instrument panel. When turned on, Winter Wiper Park rests the wipers higher up on the windshield than normal, so they're no longer flush with the hood.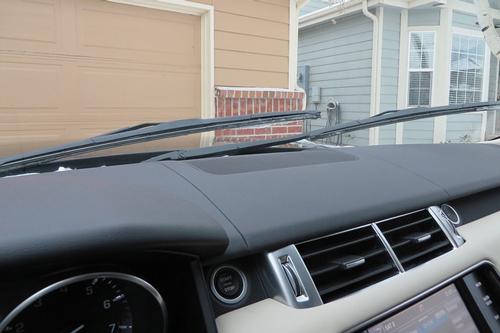 The higher position allows the wipers to be lifted off the windshield without running into the hood. It also makes clearing snow from the cowl base, which supports the windshield and dashboard, easier when the wipers are on the windshield, said Wayne Kung, Land Rover spokesman.
"Wipers are parked in an elevated position between wipes, so snow will not accumulate in the cowl area, and will be cleared by air flow," Kung said. "It is also a warm, ice-free area on the windshield, if the defroster is blowing on high."
Apparently I just needed a blast of nasty winter weather to warm up to the Range Rover Sport's handy features.