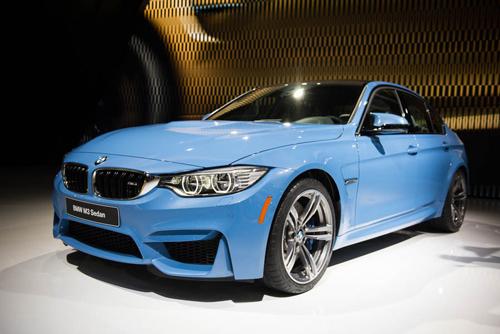 The big news for the 2015 BMW M3 sedan and its coupe variant, the M4, of course, is the German automaker's dropping of a couple of cylinders from the engine while bumping up the power output through turbocharging. However, here at the 2014 North American International Auto Show in Detroit, we don't get to drive 'em, we just look at 'em. But there's plenty new to see in these two luxury sports cars.
More 2014 Detroit Auto Show Coverage
BMW says it's made liberal use of carbon-fiber-reinforced plastic, and both the sedan and coupe have carbon-fiber roofs. Both also have redesigned bumpers with enlarged air intakes and frontal air curtains to redirect airflow, as well as side mirrors with twin supports. Inside the cabin are nameplate cues including badging, a sporty steering wheel, sport seats, carbon-fiber trim and a unique instrument cluster. Both the M3 and M4 are set to hit dealerships in the summer. Check out the photo gallery below.
Cars.com photos by Steven Pham.
Click on any image below for a larger version.