2015 Hyundai Genesis Photo Gallery (24 Photos)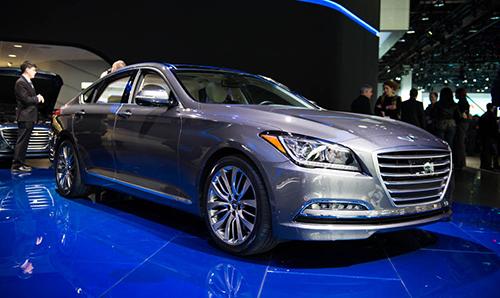 After making its world debut late last year in South Korea, the next-gen Hyundai Genesis bowed this week at the 2014 North American International Auto Show in Detroit, where we got a look at the premium sedan as it prepares to face-off with competitors from more distinguished brands. The 2015 Genesis uses the Korean automaker's Fluidic Sculpture styling, with a grille that sits low and broad and narrows at the base. A set of BMW 7 Series-esque horizontal fog lights sit above an opening that runs the length of the bumper, and a flat crease runs parallel to the ground at the car's beltline.
More 2014 Detroit Auto Show Coverage
Adopting cues from the pricier Equus, interior features now include an enlarged center display, real aluminum trim, larger seat bolsters and double-stitched leather upholstery. Check out the photo gallery below.
Cars.com photos by Steven Pham.
Click on any image for a larger version.