2015 Porsche 911 Targa: Up Close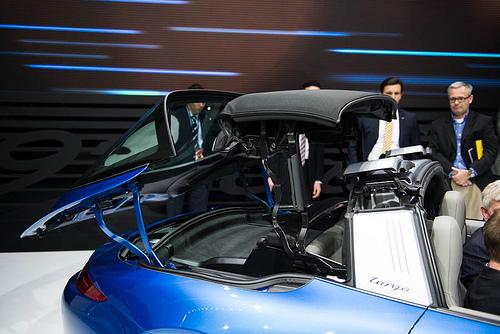 The Porsche 911 has looked like the Porsche 911 since its introduction decades ago. Few cars have maintained such iconic consistency throughout their life with shapes that are instantly recognizable. So when the shape deviates, even slightly, that's pretty big news.
More 2014 Detroit Auto Show Coverage
The new 2015 Porsche 911 Targa features the same overall silhouette as the normal 911 Carrera 4, with its slightly wider body and standard all-wheel drive, but everything north of the beltline is different from the normal coupe.
Unlike the last Targa, this new one has a solid roof and a wraparound rear window. No more sliding glass panel that slips down behind the passengers, the new top is a mixture of rigid structure and vinyl soft-top. A magnesium frame and rigid panel covered in Teflon and soft-touch material covers the space between the windshield and rear glass.
At the touch of a button, the entire rear glass panel lifts up, allowing the panel to fold into the space behind the rear seats. It looks and feels like a soft-top on a traditional convertible, but it features the security and insulation of a hardtop.
The feature means that the swoopy roofline and side window curves are gone, replaced by a satin-finish aluminum roll hoop that looks decidedly retro. It changes the appearance of the 911 considerably, making the car look somehow taller and shorter than the 911 coupe. The benefit of the Targa is better visibility with the top up and less wind buffeting with the top down. All the benefits of a convertible without the security concerns and better all-weather comfort; it is perhaps telling that the new Targa is only available in all-wheel-drive configuration.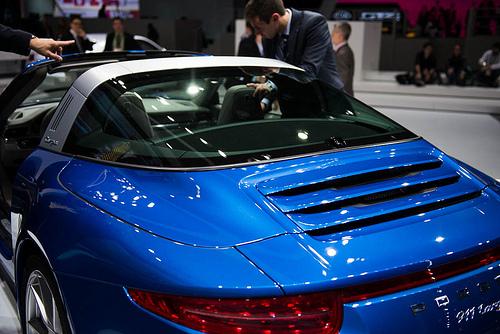 When it goes on sale, the new Targa 4 and 4S will be priced nearly identically to the full convertible 911 Cabriolet 4. That means the choice between the two will come down largely to style preferences and environment. Retro or modern, pick your open-air Porsche.