Benefits of Winter Road Salting Outweigh Costs, Study Says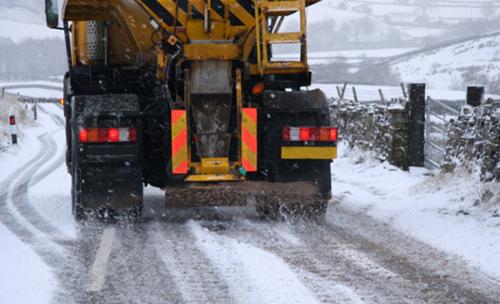 Uncharacteristically severe winter weather is hammering most of the Southeastern U.S. this week, with winter storm warnings and advisories spanning Texas to Virginia and sleet and freezing rain forecast for the Gulf Coast. To add icy insult to injury, the storm is expected to be followed by subzero temperatures across most of the South, which means dangerous roads — especially for Southerners unaccustomed to driving in such conditions.
Don't Let It Slide: Heed AAA's Black Ice Driving Tips
As public officials in those states determine how to respond to the weather on their streets and highways, an advocacy group for recreational and commercial motorists is touting the idiom that an ounce of prevention is worth a pound of cure. The American Highway Users Alliance this week released a study that concluded the impacts of using deicing salt on roadways far outweighed the costs, both in terms of safety and financial concerns. It was conducted during nearly 60 major snow events over seven years by the University of Waterloo in Ontario, Canada.
The study states that:
Road-surface condition is the single most important factor during a winter event, trumping visibility, precipitation intensity, air temperature, wind speed and exposure. • The use of road salt reduces collisions by as much as 85 percent.
A 10 percent improvement in the surface friction of a road yields about a 20 percent reduction in crashes.
Before-and-after analysis on four-lane roads showed a 93 percent reduction in accidents after deicing.
Deicing pays for itself within 25 minutes of being applied.
"According to the Federal Highway Administration, more than 1,300 people are killed and more than 116,800 people are injured in vehicle crashes on snowy, slushy or icy pavements," Gregory M. Cohen, Alliance president and CEO, said in a statement. "This presents a huge challenge to our nation's state and local governments who must act quickly to keep roads safe and clear."
Beyond safety concerns, the study concluded that the economic impact of snow-related road closures far exceeds the cost of timely snow removal. A one-day snowstorm can cost a state between $300 million and $700 million in direct and indirect costs, and it takes a disproportionate toll on hourly workers' incomes.