Don't Expect Major Gas Price Drop in 2014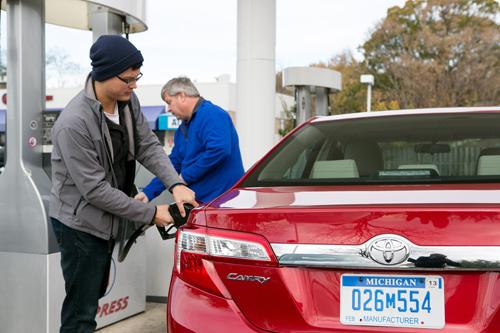 AAA's Daily Fuel Gauge Report contained a blend of bad and good news on gasoline prices at the start of 2014.
The bad: The national average price for a gallon of regular unleaded was $3.32 on Jan. 1, the fourth straight year in which pump prices opened at a record high.
Another Reason Your Mileage May Vary (for the Worse): Ethanol
The good: AAA expects gas prices to decline slightly during 2014 as refineries expand production and increasingly rely on North American oil, reducing the risk of supply issues.
"Gas prices should average slightly less in 2014 if everything goes as expected, but most drivers may not even notice because the difference could be relatively small," AAA spokesman Avery Ash said in his 2014 outlook.
"Increased refinery capacity and domestic crude oil production should help provide a cushion in case something goes wrong, but there are no guarantees when it comes to gas prices. There will remain an outside chance of paying higher prices due to unexpected global events or significant economic growth."
The national average for regular unleaded remained at $3.32 per gallon Thursday, according to AAA. That is 5 cents more than a week ago, 6 cents more than a month ago and 3 cents more than on Jan. 2, 2013. The national average for diesel fuel was $3.87, 4 cents less than a year ago.
Prices started inching up on Dec. 20 and have climbed 11 cents per gallon nationally since. Until Dec. 20, prices had been cheaper than a year ago for 136 days in a row. Two weeks ago, pump prices averaged less than $3 in five states, but as of Thursday Montana had the lowest statewide average at $3.00. Missouri was next at $3.04, followed by Oklahoma, $3.06, and New Mexico and Utah, $3.08.
Hawaii had the highest average price at $3.95. Among the Lower 48 states, Connecticut was highest at $3.71 and neighboring New York was close behind at $3.70, followed by California at $3.66. Prices were well above the national average in other Northeastern states. The statewide average was more than $3.50 in Maine, Massachusetts, Rhode Island and Vermont.