Infiniti Q50 Eau Rogue Concept Photo Gallery (23 Photos)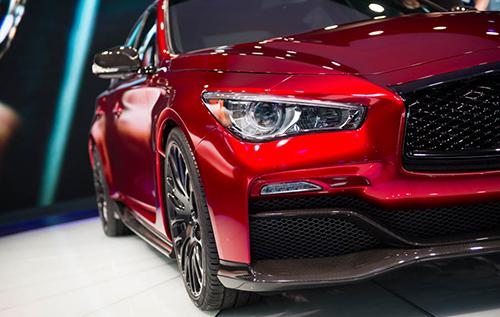 If the concept car we saw this week at the 2014 North American International Auto Show in Detroit is a reliable indicator, the hot-looking Infiniti Q50 luxury sedan could be on the fast track to a faster version. As its name indicates, the Q50 Eau Rogue concept, a performance variant of the regular G25/G37 successor, is influenced by Infiniti's ties to Formula One racing and wears the looks to back up its name.
More 2014 Detroit Auto Show Coverage
The Q50 Eau Rouge wears widened rear fenders and aerodynamic carbon-fiber body enhancements. It rides on blacked-out 21-inch forged alloy wheels, and bright trim work around the grille, windows and door handles is toned down with matching dark chrome matte accents for a sinister look. Check out the photo gallery below.
Cars.com photos by Steven Pham.
Click on any image for a larger version.