Infiniti Q50 Eau Rouge Concept at the 2014 Detroit Auto Show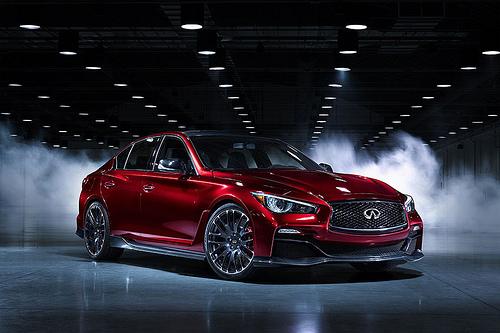 Looks like: A bulging, 'roided-up Q50
Defining characteristics: Potential 500-hp engine, widened fenders, Formula One-inspired aerodynamics
Ridiculous features: Red-infused carbon fiber interior accents
Chance of being mass-produced: A performance-tuned Infiniti isn't that farfetched
The Q50's Eau Rouge concept can thank Infiniti's involvement in Formula One racing. The concept is a high-performance version of the Q50 sports sedan. The Eau Rouge name comes from a particularly fast corner of the Formula One circuit, Spa-Francorchamps in Belgium, that sees speeds around 200 mph from Formula One cars.
More 2014 Detroit Auto Show Coverage
We imagine a high-performance Q50 could be a prime match for the newly released, 425-horsepower 2015 BMW M3. While the exact source of power hasn't been nailed down, exterior and interior modifications are ready to support whatever engine Infiniti decides to throw in the car.
The Q50 Eau Rouge wears unique body styling with widened rear fenders and new aerodynamic work made from carbon fiber, inspired by the automaker's Formula One car. Infiniti says almost every exterior panel is unique to the concept except for the front doors and arch of the roof pillars. A wider rear stance is covered by fenders bulging 20 millimeters more than the standard Q50, and the hood features cooling slots. Bright trim work around the grille, windows and door handles is toned down with dark chrome matte accents for a sinister look. Complementing the dark accents are lightweight 21-inch forged alloy wheels, also blackened.
The inside receives a high-performance treatment as well with a high-grip steering wheel and Formula One-style paddle shifters. Lining the doors and center console are red-infused carbon fiber accents and, like the outside, dark chrome replaces the brighter interior pieces.
Perhaps most intriguing is the engine Infiniti may slide between the front fenders. At the moment, the unit it's considering uses a V configuration (V-6, for example) and turbocharger or supercharger. "If we built this car I would expect it to feature over 500 [horsepower] and 600 [pounds-feet] of torque," Infiniti's president, Johan de Nysschen, said in a statement.