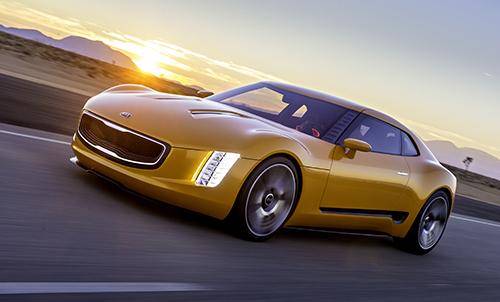 Looks like: A Scion FR-S or Subaru BRZ rollin' on 20s in a quasi-Utopian society
Defining characteristics: Low, muscular stance; "wrap-around sunglasses" greenhouse; and "shrink-wrapped" sheet metal
Ridiculous features: Vertical, rhombus-shaped LED headlamps; pull-strap interior door handles; lack of a stereo
Chances of being mass-produced: Almost zero. Anything that actually makes it to market would be a mere "inspired-by" shadow of this out-there design
No matter how cool you might find the Kia GT4 Stinger concept, don't expect to find the race-inspired rear-wheel-drive sports car on the dealership lot anytime in the foreseeable future.
More 2014 Detroit Auto Show News
Conceived by Kia's California-based designers for "gearheads and enthusiasts" to geek-out on and inspired by recent Kia Racing team victories, the 2+2-seat GT4 Stinger is intended as a haiku to the stripped-down, visceral joys of the driving experience. "It's a totally selfish design," said Tom Kearns, chief designer for the Korean automaker's U.S. design team, in a statement.
The automaker says that although intended as a daily driver, the Stinger eschews the more luxurious features of a touring car — "luxurious" as in "a stereo," which it doesn't have — and is equally at home on the track. The concept's turbocharged 2.0-liter four-cylinder with direct injection makes 315 horsepower and is mated to a six-speed manual transmission. This Ignition Yellow (looks like orange to our eyes) concept has a wheelbase and overall length shorter than the Forte sedan, a width greater than the Cadenza and a height nearly 9 inches shorter than the Rio subcompact; it weighs in at 2,874 pounds.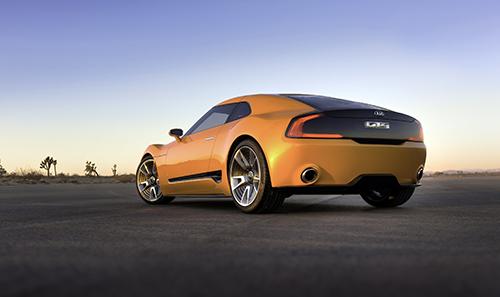 Kia said designers gave the car a "shrink-wrapped" appearance as if the body panels were "formed around the chassis instead of welded to it." The grille rests low to the ground for maximum engine cooling and is surrounded by a glowing white accent with a black border. On either side of the grille are large, vertical, rhombus-shaped headlamps. The front bumper features molded front-brake cooling vents and a carbon-fiber splitter mounted below to provide downforce at high speeds. The long hood rises gently to meet the windshield, with two chrome accent pieces breaking up the otherwise uninterrupted flow of the sheet metal. Protruding fenders give the front end a muscular stance and house custom 20-inch aluminum wheels with carbon-fiber inserts.
Transparent A-pillars provide a more than 270-degree view from the driver's seat, Kia says, while an aggressive side profile comes courtesy of the resulting "wrap-around sunglasses" look. Moreover, black rocker panels have integrated cooling ducts to enhance airflow to the rear brakes. The body widens at the rear, and a glass hatch opens to reveal a built-in storage compartment while LED taillights illuminate the outer edge of a blacked-out panel just above the dual exhaust ports in the rear bumper.
Spartan interior features include red-stitched pull-strap door handles, molded leather race-inspired bucket seats, a rubber floormat (no carpet to be had), billet-aluminum pedals, a D-shaped steering wheel and a red-LED-accented instrument panel with a large tachometer and gear indicator. Also, like we said earlier, there's no stereo. (Kia muses that the music comes from under the hood.)
As it may be clear by now, Kia says it has "no plans" to bring this concept to production, though it noted the possibility that future vehicles could be influenced by the design.