Kia GT4 Stinger Concept Photo Gallery (25 Photos)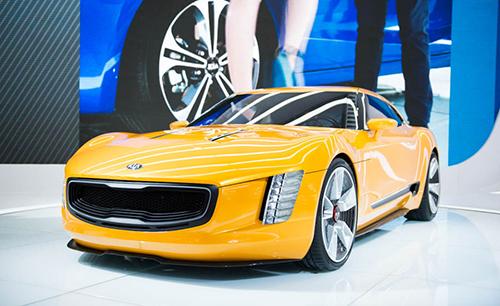 With the road-and-race-ready GT4 Stinger concept car, Kia is looking to create some buzz this week at the 2014 North American International Auto Show in Detroit. Falling squarely in the category of splashy concept cars with zero chance of ever seeing production, the 2+2 sports coupe was touted as a car designed to impress other designers — from its seamless "shrink-wrapped" body panels to its "wraparound sunglasses" greenhouse and vertical rectangular headlights.
More 2014 Detroit Auto Show Coverage
If it were to make its way to the real world, the GT4 Stinger — intended as a daily driver equally at home on the track — would be powered by a turbocharged, direct-injected 2.0-liter four-cylinder making 315 horsepower and mated to a six-speed manual transmission. The cockpit's design is stripped down to focus on the driver experience, with features like pull-strap door handles, race-inspired bucket seats and a rubber floormat, and lacks common comforts like a stereo. Check out the gallery below.
Cars.com photos by Steven Pham.
Click on any image below for a larger version.