2014 SRT Viper Stryker Green Photo Gallery (27 Photos)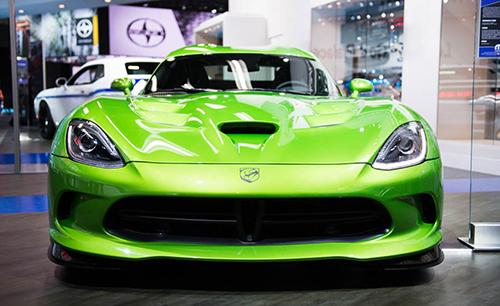 If the Wicked Witch of the West were to trade in her broom for an image-appropriate whip to tear down the yellow brick road in, it would be the 2014 SRT Viper in Stryker Green. But don't be intimidated, the Chrysler-made supercar isn't exactly known for its subtlety, so there's no reason why the average Emerald City resident can't rock this wicked Oz-tentatious paint job — if they're willing or able to afford it, that is.
More 2014 Detroit Auto Show Coverage
Stryker Green is likely in line with the Red Tinted Pearl color, which costs just shy of $15,000 and is available only on the pricier Viper GTS and standard model with the GT package, which includes high-end stuff like Nappa leather seats. Check out the photo gallery below and see if this green is worth your green.
Cars.com photos by Steven Pham.
Click on any image for a larger version.