The Top 10 Best-Selling Cars of 2013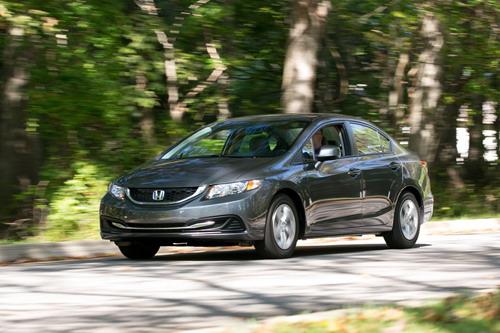 Even as 2013 cars sales stalled a bit in December, new-car sales overall still landed around 15.6 million units for the year. That's up 8 percent over 2012, and it marks the best sales since 2007. If 2014 sees similar gains, the experts are right: Happy days for the industry will be here again.
Top 10 Best-Selling Cars: December 2013
Does that mean happy days for the consumer? Yes, but with caveats. Even as discounts edged upward, ballooning MSRPs sent transaction prices to nearly $33,000 per car by December, according to CNW Marketing Research. Compare that to all of 2012, when transactions averaged as low as $30,184 at the beginning of the year. New cars got pricier, yet shoppers still bought them.
Why? Just look at consumer confidence. Shoppers shook off a government shutdown in October to average 73.3 in The Conference Board's consumer-confidence index throughout all of 2013. That's up 6.2 points versus 2012. And why wouldn't they? Unemployment, which spent most of 2012 above 8 percent, fell below 7.5 percent in the second half of 2013.
All of that should lead sales to what Bill Fay, Toyota's division group vice president and general manager, calls "rising to pre-recession levels" in 2014. Tom Libby, a senior analyst at R.L. Polk and Co., told us the same thing earlier this week.
Hyundai's Dave Zuchowski said the same. "All year-end indicators appear to be signaling a robust economic environment for 2014," the brand's newly minted U.S. CEO said in a sales statement.
Detroit automakers fared well, ending 2013 up 9 percent. Ford led the charge with overall sales up 10.8 percent even as it ended the year on a soft note. The F-Series is still America's No. 1 best-seller, and Ford likes to remind us it's been that way for 32 years. It's far and away the best-selling full-size pickup, too: Combine all GM full-size pickup sales in 2013 — the Silverado and Sierra, plus a smattering of now-discontinued Chevrolet Avalanche and Cadillac Escalade EXT sales — and the F-Series still trumps them.
GM, meanwhile, had its own rosy outlook.
"GM and the auto industry put the last traces of the recession in the rearview mirror," said Kurt McNeil, head of U.S. sales at the automaker — and that was after GM posted a 6.3 percent December sales loss. Still, the General gained 7.3 percent in sales over 2013 as popular models like the Chevrolet Silverado and GMC Sierra (up a combined 15.5 percent for the year) and Chevrolet Equinox (up 9 percent) bolstered the sales picture.
Chrysler's Jeep brand — one of the automaker's five U.S. brands — got a lot of lift in recent months from the new Cherokee. But it's really the Dodge and Ram brands, up a combined 16.7 percent, that lifted the tide for the automaker, which Fiat will fully own on Jan. 20.
Here were 2013's bestselling cars:
Related
Top 10 Best-Selling Cars: December 2013
December's Fastest- and Slowest-Selling Cars
More Automotive News