Toyota FT-1 Concept at the 2014 Detroit Auto Show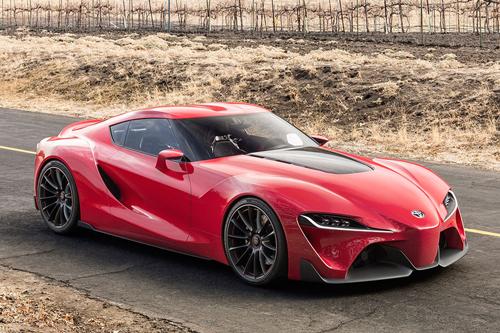 Looks like: An enlarged Scion FR-S with Lexus LFA flare
Defining characteristics: Formula One nose and lots of scoops and swoops
Ridiculous features: Performance vitals displayed on the steering wheel
Chances of being mass-produced: As is, not likely
Toyota's current dedicated performance car is the Scion FR-S, a rear-wheel-drive sports coupe and one of the inspirations for the Toyota FT-1 Concept debuting at the 2014 North American International Auto Show in Detroit. The front-engine rear-wheel-drive Toyota FT-1 Concept is the next step in injecting more performance into the brand, with the track-focused concept recalling Toyota's revered performance cars like the Supra, MR2 and 2000GT.
More 2014 Detroit Auto Show Coverage
Though an engine isn't officially named yet, you'll be able to drive the FT-1 concept this week; virtually, anyway. Toyota partnered with Polyphony Digital, creators of the "Gran Turismo" driving simulator, to design the car in the video game environment first before pitching the concept to Toyota President Akio Toyoda. The FT-1 will be available as downloadable content in "Gran Turismo 6" on Sony PlayStation 3 on Jan. 14.
The FT in the concept's name is short for "Future Toyota," and 1 is supposed to represent the "ultimate." To achieve the ultimate, Toyota says the design of the FT-1 was less about getting a consensus from a large group of stakeholders and more about passion and excitement. The FT-1's exterior is a mass of swooping body lines, muscular bulges and flowing design, especially the near seamless integration of the speed-deployed retractable rear spoiler. We'll see what the bean counters have to say when it's time to clear the FT-1 for production, though the FR-S stayed mostly true to its many concepts.
The FT-1's inside follows the outside's functional aspirations with dedicated track focus with soft-touch areas only in the spots where the body touches. Otherwise, it's a minimalist approach with carbon fiber and composite materials galore, a Formula One-inspired steering wheel and a unique head-up display. The concept's color head-up display is shown on a piece of glass in front of the steering wheel instead of the typical way of projecting on the windshield.
There are no technical specifications for the concept. Toyota says you can assume it's powered by a "high-technology, high-performance internal combustion engine." You may think you're looking at an engine under the transparent hood, but it's an engine cover Toyota leaves ambiguous to allow the onlooker's imagination to determine its powertrain.
Click on any photo below for a larger version.