Toyota, Kia Make News at the 2014 Consumer Electronics Show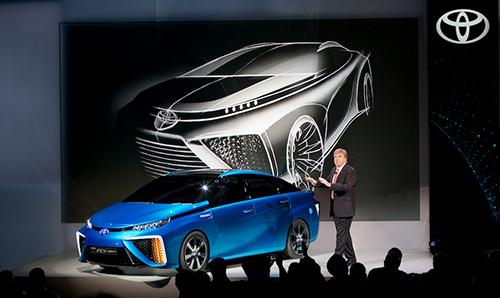 The "car of the future" is now just a year away, according to Toyota. The automaker unveiled its hydrogen fuel-cell electric vehicle at the 2014 Consumer Electronics Show in Las Vegas this week. Toyota says the FCV concept will be ready for launch as a production car as planned by 2015, making good on its promise to bring a convenient fuel-cell car to the mass market. Two versions of the concept are on display at CES, the camouflaged prototype that has undergone road testing for more than a year and a production-intent sedan painted Radiant Blue.
Toyota Wants $50,000 Hydrogen Sedan by 2015
The FCV boasts a range of about 300 miles, a zero-to-60-mph time of about 10 seconds and a 3- to 5-minute refueling time. The FCV is powered by onboard sources of electricity generated from hydrogen and its only emissions are water vapor. Toyota has been developing the FCV for 11 years and in that time, it says, has driven more than a million test miles and dramatically reduced the size and weight of the powertrain system — as well as the costs of building it — while preserving the vehicle's power output of more than 100 kilowatts.
The car, which has yet to be priced, will first launch in California, where the automaker has partnered with state university researchers to map out potential locations for hydrogen fueling stations. The practicality of refueling has been a major sticking point in the acceptance of hydrogen electric vehicles. California already has approved more than $200 million to fund the construction of 20 new refueling stations by 2015, growing to as many as 100 by 2024.
Toyota is hardly the only automaker intent on bringing a mass-market hydrogen electric vehicle to fruition in the near term. Daimler, Ford and Nissan announced plans early last year to develop a common fuel-cell stack and fuel-cell system that could be used separately by each to produce their own fuel-cell vehicles by 2017. Meanwhile, Hyundai will deliver its hydrogen-powered 2015 Tucson to Southern California dealerships this coming spring. Moreover, GM and Honda announced last year that they were partnering on a fuel-cell car for 2020, and Toyota and BMW announced a partnership to develop a complete fuel-cell system for use in an all-new midsize sports car.
In other news out of the 2014 CES, which runs through Friday:
A coalition of auto and technology companies has joined forces to make the concept of the "connected car" a reality starting in 2014 using the Android platform. Open Automotive Alliance members Audi, GM, Google, Honda, Hyundai and chip manufacturer Nvidia announced at CES that infotainment systems may run on the open-source operating system as soon as this year. This would allow programmers to easily create new apps specifically tailored to in-car use as well as employing Android computing for a host of demanding functions, particularly driverless travel, USA Today reported. Read more here.
Kia's KND-7 concept [pictured below] made its North American debut this week. The compact sedan is less than 4 meters long, with rearward-opening rear doors and an "access-all-areas" interior concept that eschews traditional B-pillars. The KND-7 is powered by a direct-injection turbocharged 1.6-liter engine producing 201 horsepower.
Audi demonstrated its autonomous-driving A7 sedan. The automaker's "piloted driving" system is intended to give the driver a break when the vehicle is traveling at moderate speeds. No projected sale date has been announced.