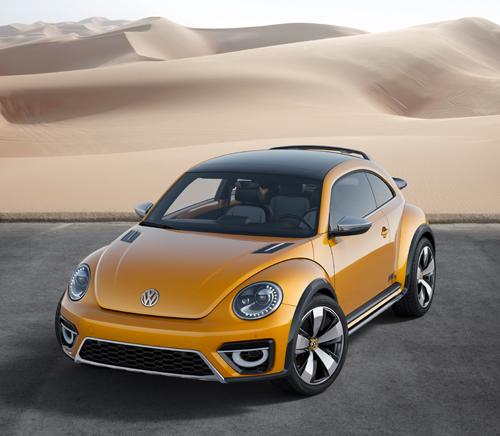 Looks like: VW gives its cute hatchback an edgy off-road look
Defining characteristics: This Beetle was raised 2 inches for more ground clearance
Ridiculous features: VW engineers bolted a pair of skis on the back … for dune skiing?!
Chances of being mass-produced: Similar to a desert mirage, it's likely this car will exist only in your imagination, though Volkswagen said, "the Dune concept shows the potential for a new production version of the sportiest Beetle ever."
If you thought the only look the Beetle could rock was cute, think again. The Beetle Dune concept debuting at the 2014 North American International Auto Show reveals the hatchback's rugged side with a raised body and all-terrain-looking exterior treatments. Volkswagen says the look harks "back to the VW Bugs that conquered beaches and dunes in times past," but engineers had a different climate in mind — they bolted a pair of skis to the roof.
More 2014 Detroit Auto Show Coverage
The concept was built off of the sporty R-Line Beetle and uses the model's 210-horsepower, turbocharged four-cylinder engine and six-speed dual-clutch automated manual transmission. This new concept builds off of the New Beetle Dune concept that was unveiled at the 2000 Los Angeles Auto Show, and VW says the 2014 version is "a lot more feasible," though VW has not confirmed production plans for the Beetle Dune.