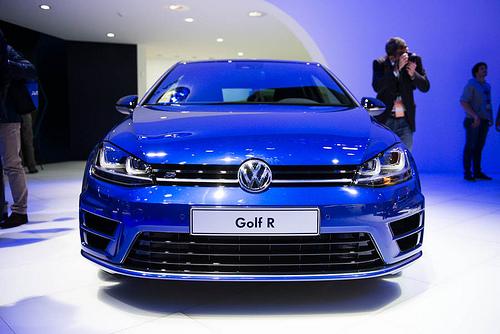 Volkswagen teased us at the 2014 North American International Auto Show in Detroit with its new 290-horsepower Volkswagen Golf R in two-door form.
More 2014 Detroit Auto Show Coverage
We'll definitely see the new Golf R in the U.S., but this time around it will only be available with four doors. The previous Golf R gave U.S. buyers the choice of four or two doors, and customers overseas will still get that option with the new version. Volkswagen told us that the two-door Golf R was shown in Detroit because it was the same model originally introduced at the 2013 Frankfurt Motor Show.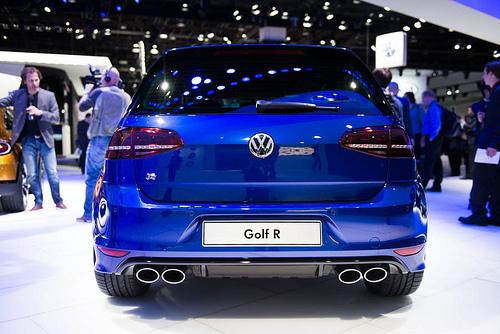 The new Golf R, like the previous generation, shows off its performance pedigree on the outside with a slightly more aggressive exterior package. The Golf R's bumpers, side skirt and rear diffuser are R specific, and a quad-tipped exhaust exits the rear.
It's actually a subtle package for Volkswagen's most powerful production Golf ever, which is capable of zero to 60 mph in 4.9 seconds with a dual-clutch automatic transmission option and all-wheel drive. Owners will have fun surprising unsuspecting sports cars in their Golf.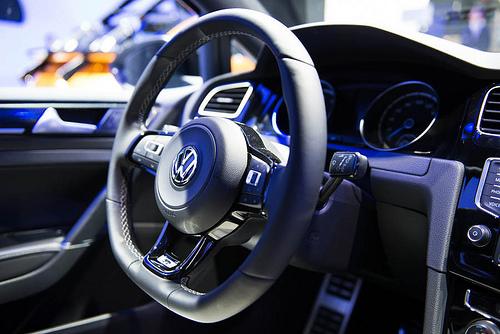 The modest aesthetic package is mirrored on the inside. The most significant differentiation is the leather-covered sport seats with Nappa leather inserts in the center. The Golf's high-quality interior with soft-touch materials is highlighted in the Golf R with the front seats' supportive side bolsters and soft cushioning that doesn't poke your ribs like other sport seats commonly do.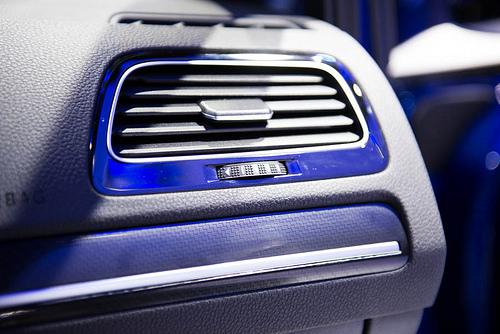 Carbon Touch trim panels are found on the dashboard and doors, but it isn't the most convincing carbon-fiber look.
The regular Golf and GTI four-door variants we've seen give the compact car an elongated, more proportional look, while the two-door has a stubbier appearance. The Golf R sits even lower than the GTI — by 0.2 inches — and should look lower and longer with four doors.