Volkswagen Passat BlueMotion Concept at the 2014 Detroit Auto Show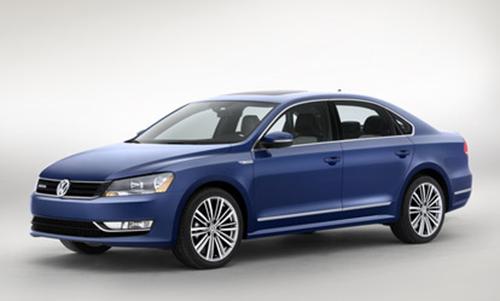 Looks like: A blue Volkswagen Passat
Defining characteristics: Unique Reef Blue Metallic exterior color and BlueMotion badging; two-tone leather interior with BlueMotion-specific stitching
Ridiculous features: None; this is a production-ready car
Chances of being mass-produced: Pretty good
With this week's debut of the Volkswagen Passat BlueMotion concept at the 2014 North American International Auto Show in Detroit, the German automaker says it's out to illustrate just how fuel efficient a gas-only midsize sedan can be. The Passat BlueMotion sedan's turbocharged 1.4-liter four-cylinder with direct injection employs a number of fuel-saving technologies to help the concept achieve an estimated fuel economy of 42 mpg highway, which in real-world mileage would be best in class among non-hybrid cars of its ilk.
More 2014 Detroit Auto Show News
The engine, which makes 150 horsepower and 184 pounds-feet of torque, uses VW's Active Cylinder Management system previously employed in European Polo and Golf models. The system deactivates the valvetrain on cylinders two and three in light throttle situations to maintain specific city speeds. In addition, the Passat BlueMotion has a coasting function — also found on the Jetta Hybrid — in which the dual-clutch automatic transmission decouples the engine as soon as the driver releases the accelerator, allowing the car to roll with the lowest possible mechanical drag from the other moving components, according to VW. The third fuel-saving function used by the Passat BlueMotion is an engine stop-start feature.
The concept's Reef Blue Metallic exterior color will be introduced on other Passat models at a later date. The interior has two-tone seats with blue dividing lines between the darker and lighter leather seating surfaces. The stitching is intended to distinguish the Passat as a member of the BlueMotion lineup.