2014 Dodge Durango Delivers Useful Rear Cargo Space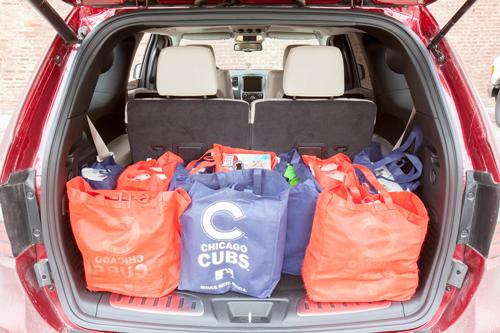 I've been smitten with the 2014 Dodge Durango's under-floor compartment ever since I discovered that gifts for sneaky children could be hidden there, undiscovered for weeks or even months. My curious children have scoped out every possible gift-hiding space in my house, but secret car compartments are not even on their radar, thereby allowing me to maintain some surprise in their lives.
However, hiding things is not the only reason I like this three-row crossover's under-floor compartment. It's also useful for the simple fact that it creates more cargo room where there is often a dearth of space: behind the third row. Three-row crossovers excel at hauling larger families, but often fall down when it comes to hauling all of that family's stuff.
The Durango has a 17.2-cubic-foot cargo area behind the third-row seats, and it also has the magical under-floor compartment. The compartment comes in two sizes, depending on your audio preferences, says Chrysler spokesman Patrick Hespen. With a subwoofer added to the audio system, the compartment is 2.45 cubic feet, and without the subwoofer, it's 3.8 cubic feet. Using both the under-floor storage and the rear cargo area means there's 21 cubic feet of space to stuff shopping bags or groceries. As a point of reference, consider that 3.8 cubic feet is the size of a standard washing machine that fits a king-sized comforter or two baskets of laundry.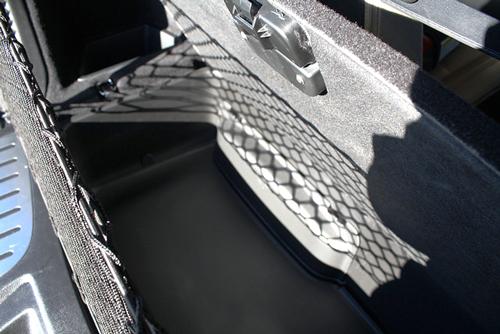 For those of us with Pig Pen-esque children, the under-floor compartment tidily swallows muddy shoes and clothing. The Durango's under-floor area can be wiped down with a wet rag and it's as good as new. The space also brilliantly tackles more mundane tasks such as holding large purses, computer bags or kids' backpacks. The options are limitless.
I'm not trying to convince anyone that the 2014 Durango has more storage space behind the third row than other family haulers. A minivan, it is not. The 2014 Toyota Sienna has a class-winning 39.1 cubic feet of cargo volume behind the third row, with the 2014 Honda Odyssey not far behind at 38.4 cubic feet. The Durango's sibling, the Grand Caravan has 33.0 cubic feet of space. But minivans are another market entirely, and let's face it, the Durango is sexier than a minivan, writes the mother of three and a minivan driver.
The Durango's 17.2 cubic feet shines in its own class when compared to the 2014 Toyota Highlander (13.8 cubic feet), the 2014 Hyundai Santa Fe (13.5) and the 2014 Nissan Pathfinder (16).
The Chevrolet Traverse (24.4 cubic feet) and Ford Explorer (21) beat the Durango handily in cargo room, and the Honda Pilot just squeaks past it with 18.0 cubic feet of cargo space behind the third row.
Nonetheless, the Dodge Durango deserves praise for its clever use of space. It's an easily maneuverable, well-appointed three-row crossover with decent storage space and that, my friends, is useful.
Cars.com photos by Evan Sears and Courtney Messenbaugh