2014 Infiniti QX80: Big SUV, Small Kids Don't Mix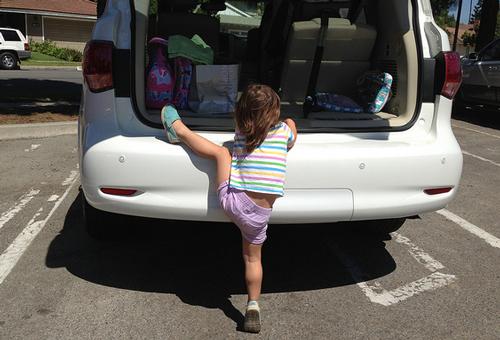 The 2014 Infiniti QX80 is a three-row behemoth that seems ready-made for families. It can haul up to eight passengers depending on the seat configuration, so I figured that my family of five would be easy for it to handle. Boy, was I wrong.
2014 Infiniti QX80: Car Seat Check
The QX80 — formerly known as the QX56 — has a spacious, luxurious interior, but it didn't play nicely with my young children's child-safety seats, and a difficult-to-access third row had my 3-year-old daughter climbing into the cargo area to get to her car seat; I followed right behind her to buckle her in.
While the QX80 is a family hauler, it seems like it wasn't designed with younger children in mind. My test car had the standard second-row captain's chairs with a large center console between them. To access the third row, the captain's chairs must be tumbled forward. This can be done with the flip of a lever or a button near the driver's seat, but the seats can't be tumbled if a child-safety seat is installed.
With two of my three child-safety seats installed in the captain's chairs, I couldn't access the third row unless I climbed through the cargo area. That's fine every now and then, but I had to do it every time[JN4] I buckled or unbuckled my 3-year-old into her convertible car seat. That got old (and sweaty) quickly.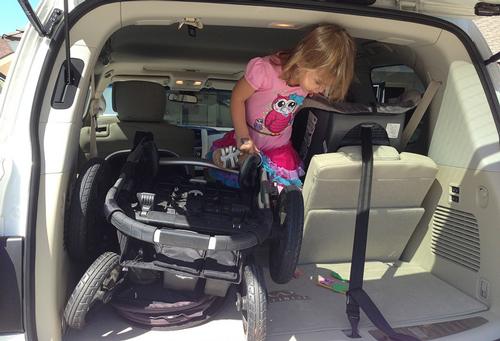 My 3-year-old could climb over the second row's center console to get to the third row, but it was so big that it wasn't an easy feat. She mostly climbed into the QX80 through the cargo area. If I had anything in the cargo area, my daughter either had to climb over it or wait until I moved it. After running a couple errands, both of us were irritated with this arrangement.
Whether you're in the seven- or eight-seat QX80, there are only two sets of lower Latch anchors, which are found in the second row — another example of this SUV catering to families with older children. There is a third tether anchor in the third row, though, and I'm happy to report that my three car seats — an infant seat, a forward-facing combination seat and a forward-facing convertible, which was installed with a seat belt in the third row — all fit well in the QX80's third row.
No matter how luxurious or spacious the QX80 is, it isn't designed well for a large family of car-seat-bound children.