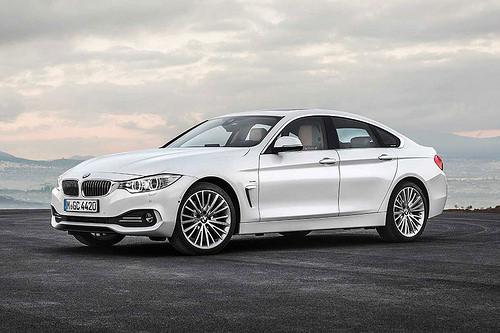 Competes with: Mercedes-Benz C-Class, Audi A4, BMW 3 Series sedan, BMW 3 Series Gran Touring
Looks like: The 3 Series sedan, only taller, or the 3 Series Gran Touring, only shorter
Drivetrain: 240-horsepower, turbocharged 2.0-liter four-cylinder or 300-hp, turbocharged 3.0-liter inline six-cylinder engines; eight-speed automatic transmission; optional all-wheel drive
Hits dealerships: Summer 2014
Price: 428i GC, $41,225; 428i xDrive GC, $43,225; 435i GC $46,725 (all prices include a $925 destination fee)
There are some things you can never have too much of. Money, chocolate and apparently, according to BMW, car-model variants. That's the only explanation we can come up with for the introduction of this latest compact car from the German luxury brand, the 4 Series Gran Coupe.
What exactly is it? Well, take the 4 Series coupe, stretch the roofline slope about 4.4 inches, raise the roof a half-inch, add two doors and voila: The 4 Series Gran Coupe is born. With the exact same length, width, wheelbase and track as the two-door coupe but featuring a bit more headroom, the 4 Series Gran Coupe sports a tall hatchback sedan profile and a full 45.9 cubic feet of total luggage space inside. Sound like a "coupe" to you?
The current 4 Series coupe is essentially last year's 3 Series coupe, but a new naming convention makes all odd-numbered BMWs sedans and even-numbered BMWs coupes. But wait, you say, this 4 Gran Coupe has four doors, why isn't it the 3 Series Gran Coupe? Because according to BMW, it's still somehow a coupe — despite the fact that you'd be hard-pressed to tell it apart from the 3 Series sedan at a distance.
Shall we confuse things even more? BMW also makes the 3 Series Gran Touring, which looks almost identical to the new 4 Series Gran Coupe and features the same powertrains and interiors, but has an even taller roof, longer wheelbase and higher hatchback. Baffled? So are we.
Exterior
BMW's not kidding when it says that the 4GC's dimensions are the same as the coupe. It uses the coupe's sheet metal too, with a more aggressive front bumper design and larger fender ornamentation; it also wears the coupe's taillights. It's as if someone at BMW looked at the 3 Series Gran Touring and said, "That roof is just too tall — let's cut it down to halfway between the GT and the sedan and go with that." Admittedly, it does look better than the truly awkward 3GT, but calling this a coupe alongside the truly good-looking 4 Series coupe is a stretch.
Interior
Inside, it's a standard 4 Series — which is to say, it looks like the 3 Series sedan. BMW's layered cockpit look is attractive, with its monolithic iDrive display mounted high and center on the dashboard for easy legibility and high-quality materials used throughout. The most notable difference is in headroom, which BMW says is better for all passengers, and the 40/20/40-split rear seatbacks, which can be folded down to create significant cargo space (but less than the taller 3GT's 56.5 cubic feet of available room).
Under the Hood
Powering the 4GC is a choice of two engines. The rear-wheel-drive 428i will feature BMW's excellent 240-horsepower, turbocharged 2.0-liter four-cylinder engine. Stepping up to the 435i swaps the 2.0-liter for the even better 300-hp, turbocharged 3.0-liter inline six-cylinder engine. Both engines are mated to an eight-speed automatic, and the brand's xDrive all-wheel-drive system is optional on either model.
BMW says that the suspension setup is the same as the coupe, but that tuning has been adjusted to accommodate the slightly higher weight of the 4GC. The Gran Coupe should handle differently than the 3 Series GT, however, given that it retains the wider track and 4-inch shorter wheelbase of the coupe versus the GT. BMW's Driving Dynamics Control is also available; it's an electronic driver-selectable adjustment system, which modifies suspension settings, steering effort, throttle response and stability control thresholds based on the driver's desire for comfort, sport or eco-friendliness.
An optional M Sport trim package brings more aggressive parts to the 4GC as well, with firmer springs and dampers, larger anti-roll bars, bigger wheels and tires, and larger brakes. The parts are also available as a stand-alone option package, if you prefer the chromed look of the Luxury trim level to the blacked-out trim on the M Sport.
Safety Features
As befits a loaded BMW, the 4GC has a host of optional safety features, including collision alert systems with pedestrian functions, distance keeping cruise control, blind spot detection and lane departure warning, full LED headlights with automatic high-beam shut-off, park distance control sensors and automatic parallel parking function.
Prices are right in line with the rest of the 3/4 Series lineup, and start at $41,225 for the 428i Gran Coupe and moving up to $43,225 if you add xDrive AWD (all prices include a $925 destination fee). The 435i GC will set you back $46,725 for the rear-wheel-drive model; all-wheel drive will not be immediately available at launch, according to BMW. The new 4 Series Gran Coupe arrives in showrooms in early summer 2014.