2015 Subaru Legacy: Up Close
Subaru used to be known for quirky cars, imported brand models that were a little left of center from the mainstream, but with the introduction of the new 2015 Legacy sedan, the company has moved its midsize family car even further to the center of the segment.
More 2014 Chicago Auto Show Coverage
Debuting at the 2014 Chicago Auto Show, the new Legacy is a fairly mild update of the 2014 model, featuring some new sheet metal and a slightly larger interior, but keeping the same exterior dimensions, powertrains and electronic systems.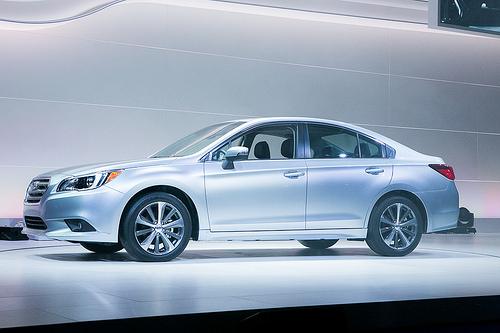 Outside, the new Legacy is what my significant other would refer to as "car shaped." There isn't a distinctive body line on the vehicle to set it apart from anything else on the market. The front end looks like a Chevrolet Malibu, and the side resembles the Hyundai Sonata. What it does not look like is the lovely concept car shown at the 2013 Los Angeles Auto Show just a few months ago, not that anyone really expected it to. It's certainly not ugly, and owners of the current Legacy won't find any reason in the styling to reject the new one, but it's not likely to draw many people away from competitors based on looks alone.
Inside, the updates to materials do help to bring the Legacy into the present standard for automotive interiors with a more upscale feel to the top trim level, but design remains staid and boring. New touch-sensitive controls for the center console make us cringe -- loathing them as we do on nearly every other vehicle they've appeared on -- but the updated entertainment system looks good, even if it is fitted in a slightly smaller-than-average 6.2-inch screen.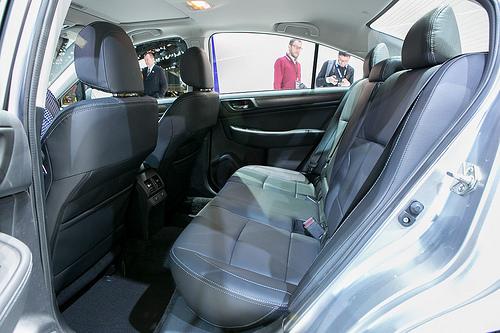 Subaru claims that the Legacy has the largest interior in the midsize sedan class, but that's a bit misleading. Where the Legacy wins is in headroom, offering considerably more than most major competitors, but no more legroom or hip room, front or rear. That extra headroom does help the sensation of spaciousness, and combined with the still-low dashboard and side sills, it maintains the roomy, airy sensation we've specifically enjoyed in the Legacy. Seats continue to be a strong point, too; they're supportive and quite comfortable.
Overall, the new 2015 Legacy continues Subaru's trend of making each successive model more accessible to the masses, but the reasons for buying one still remain the same, even on this updated 2015 model: cheap access to all-wheel drive, top safety ratings, good reliability and decent fuel economy (in the four-cylinder model).