Black Widow Corvette Stingray Is Auto Show Avenger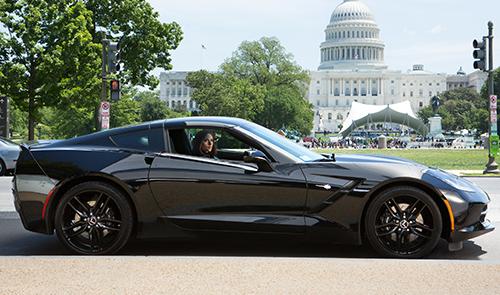 What do you get when you cross a barb-tailed fish with a venomous spider? At the 2014 Chicago Auto Show, it means you get a supercar with looks that could kill — and performance to match — that's fit for a deadly super-agent who fights alongside "Earth's Mightiest Heroes." Chevrolet today gave the world its first peek at the Black Widow Corvette Stingray, a menacing-looking, black-on-black version of the current-generation Vette behind the wheel of which movie audiences will see actress Scarlett Johansson's Natasha "Black Widow" Romanoff when "Captain America: The Winter Soldier" opens April 4.
More 2014 Chicago Auto Show Coverage
Tim Mahoney, Chevrolet global chief marketing officer, introduced the Black Widow Stingray during a triple unveiling that also included the bi-fuel 2015 Silverado Heavy Duty CNG (compressed natural gas) pickup truck and 2015 Chevrolet City Express cargo van. The presentation opened with a screening of the trailer for this year's sequel to "Captain America: The First Avenger," Cap's first film since 2012's super-friends extravaganza "Marvel's The Avengers." Marvel Entertainment's cross-marketing partnership will introduce GM products to a film universe that has previously featured prominent appearances by vehicles from Toyota and Honda by way of Lexus and Acura.
The agent of S.H.I.E.L.D.'s Stingray isn't as referentially suped-up as Kia's Superman Optima that bowed at the 2013 Chicago Auto Show, or for that matter the rest of DC Entertainment's Justice League line that included Batman, Green Lantern, Aquaman, Wonder Woman and Cyborg. Instead, the Stingray is simply black on the outside, black on the inside — fitting for the cat-suited character who harbors great guilt over her shady past (or maybe it's just intended to look super cool).
Either way, fellas, don't expect to see ScarJo show up in costume at the bowtie brand's exhibition area in Chicago. For now, you'll just have to settle for the photos of her sweet ride below. Cars.com photos by Evan Sears.