Gas Prices Increase as Spring Approaches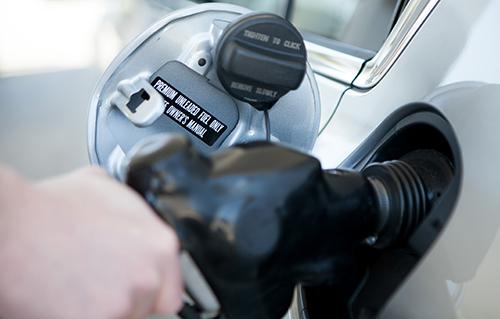 Gas prices began to rise this week and should continue to increase this spring, but peak prices this year probably will be lower than in 2013, the AAA motor club and travel services organization predicts.
The national average of $3.33 for a gallon of regular unleaded gasoline on Thursday was 6 cents higher than a week ago when AAA issued a forecast that said prices should rise as refineries conduct routine maintenance, temporarily restricting the supply. The good news: The national average is 29 cents less than a year ago.
Motorists in some states saw larger increases at the pump during the past week. Average prices jumped 10 cents in Indiana to $3.37 and 12 cents in Ohio to $3.38. Montana had the cheapest gas at $3.06, and South Carolina was the only other state with prices less than $3.10 with an average of $3.09. Missouri's prices increased 7 cents to $3.10, and in Texas, they went up 8 cents to $3.15.
Hawaii had the highest gas prices, averaging $4.03 for regular unleaded, followed by Alaska, $3.70, and California, $3.67, where prices were up 8 cents.
Gas prices generally increase in the spring because many refineries cut production for seasonal maintenance, according to AAA. Prices then decline once production returns to normal. In 2013, for example, prices increased by 49 cents before peaking at $3.79 on Feb. 27.
AAA predicts prices won't go that high this year and estimates the peak will fall into a range of $3.55 to $3.75. The national average should be $3.30 to $3.40 a gallon by late June, which is below last year's summer low of $3.47 on July 7, AAA said. Gas averaged $3.49 per gallon in 2013, and AAA expects this year's average to be at least 5 cents lower.The national average for diesel fuel was $3.95, up 3 cents from a week ago and 9 cents from a month ago, but 12 cents less than on Feb. 13, 2013.
AAA President and CEO Bob Darbelnet noted that gas prices are much more volatile than other consumer products.
"Just imagine if a cup of coffee or a hamburger changed its price daily like gasoline. The average American driver is forced to demonstrate a good deal of tolerance whenever they buy gas," Darbelnet said in a statement.