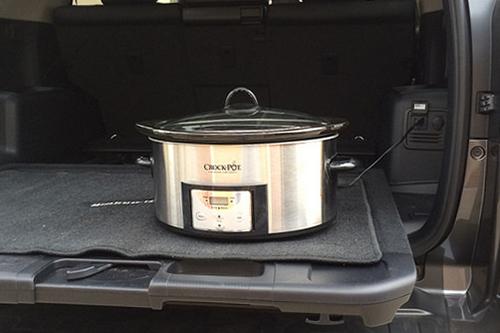 Many cars offer power outlets and with them, an intriguing option for all kinds of in-car activities. Video games, cooking and hairstyling all come to mind, but can our everyday regular appliances work with these power outlets or will my dreams of cooking chili and crimping my hair at the next tailgating party be dashed?
Cars.com Names Top 10 Tailgaters
In a test, my 6-quart slow cooker didn't work when I plugged it into the 2014 Toyota 4Runner. The 4Runner comes with several 120-volt outlets, and I was hoping to get dinner made on the go, which could really revolutionize after-school activity shuttling with the kids. So, what do I need to do in order to make dinner in the car?
It turns out I just need a better grasp of simple electrical concepts. My slow cooker is 120 volts but draws 240 watts, and the watts matter. Most outlets have a 150-watt maximum. That won't work for my huge slow cooker, but it will for my smaller snack-size one. But who only wants a snack-size slow cooker? No tailgaters with any self-respect, I can tell you that.
A stroll around my local Target store helped me iron out what kinds of small electric appliances will work in the outlets of my test cars: almost none — not even a travel hair dryer or itty-bitty curling iron. No cake-pop makers or single-cup coffee brewers. I found a coffee grinder that would work with an in-car outlet, but I had no way to actually make the coffee. What about a tea kettle to heat the water and then a French press to make the brew? Nope, most small electronics use at least 1,000 watts, and the tea kettles I looked at needed at least 1,500.
That leaves small handheld electronic devices and their charging apparatuses — one editor's daughters have been known to charge their iPads with in-car outlets. However, larger gaming systems typically need a lot more than 150 watts.
I also checked blenders in case I'm ever in the mood for a margarita at my tailgating party. No blender fit the bill. At this point, I had gotten the message.
It appears that if I want to cook and groom, I'm best off using the 120-volt outlets with appliances made specifically for them.
Cars.com photo by Sara Lacey