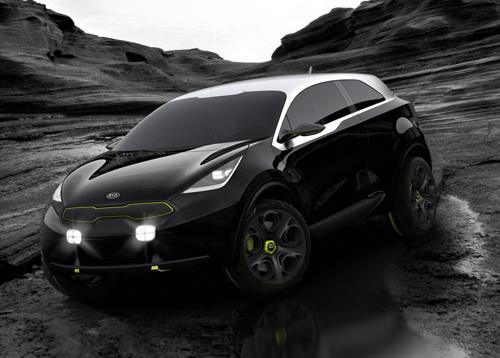 Looks like: A bug (of the insect variety, not Volkswagen)
Defining characteristics: Hybrid crossover with butterfly doors
Ridiculous features: Several cameras are mounted inside and out, allowing the driver to view a live feed of the car's surroundings on a dash-mounted screen
Chance of being mass-produced: No concrete plans, but Kia says the concept "hints at a possible future B-segment contender"
Kia is no stranger to sleek, futuristic-looking crossover concepts, and the automaker delivered again with the Niro concept unveiled at the 2014 Chicago Auto Show. The "urban hybrid vehicle" is the third hybrid or electric vehicle on Kia's Chicago stage, joining the 2015 Soul EV and 2014 Optima Hybrid.
More 2014 Chicago Auto Show Coverage
The beetle-like futuristic concept, which was designed in Kia's Frankfurt, Germany studio, is about 165 inches long and 72.8 inches wide. It rides on 20-inch aluminum wheels and wears Nightfall Black exterior paint with a brushed, stainless-steel roof. Two exterior design elements combine to give the concept a bug-like face, including running-board-type blades above the lower side sill and headlights that Kia describes as having an "ice-cube" arrangement; a strip of daylight running lights ring the headlight housing, surrounding four tiny square spotlights.
"Butterfly"-style doors swing open toward the roof, revealing a four-passenger cabin. The molded, one-piece front seats are covered in an Orbit Silver quilted fabric, and the backseat is a 50/50-split bench; fold it down for a flat, carbon-fiber-lined cargo floor. A large screen sits in the middle of the dash, displaying live images from video cameras mounted at the front, rear, sides and interior of the concept.
Under the hood is a version of Kia's turbocharged 1.6-liter engine, making 160 horsepower in this application. It's paired with a seven-speed dual-clutch transmission that drives the front wheels. Kia says an electric hybrid system is capable of delivering up to 45 hp to the rear wheels.