Mini Clubman Concept: First Look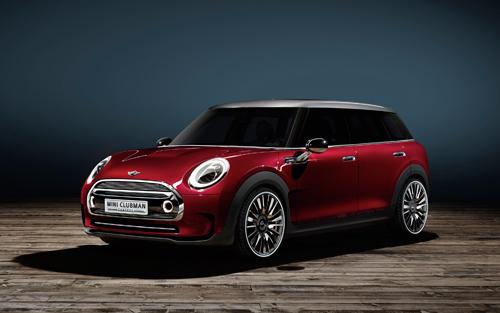 The saying goes that you can never have enough money or chocolate, but it seems that you can also add "kinds of Mini Cooper " to that list as well, as the brand continues to come out with variants on the original three-door subcompact.
Mini Clubman Concept Photo Gallery
The latest, the Mini Clubman Concept, is distinctly different than the current production Clubman. It's longer than the new Mini Cooper Hardtop, but unlike the last Clubman, it has four full doors and room for five passengers, essentially making it a four-door Mini Cooper.
The current Clubman features a stretched body for more rear room but comes with two standard conventional doors and a third rear-hinged half door on the passenger side for access to the more spacious back seat. The new Clubman Concept is actually considerably larger than the current production model — Mini says that it's 10.2 inches longer and slightly less than 6.7 inches wider than the current Clubman. These dimensions actually make the Clubman Concept bigger than the biggest Mini currently for sale, the Mini Countryman; it is 2.2 inches wider and 4.6 inches longer.
Inside, the Clubman Concept shows what could be the next iteration of Mini styling with a slick, modern take on the small-car environment. The rear doors are still split-opening, just like the current Clubman, but feature a power assist that can be activated by swiping one's foot under the rear of the car, handy if your arms are loaded with packages. The instrument panel is a large oval and is styled to appear to be floating, with rear-lit accents. The overall look is attractive, and it wouldn't be a stretch for this concept to make it to production in similar form.
Look for the debut of the Mini Clubman Concept at the Geneva International Motor Show in March 2014.