Redesigned Nissan Rogue's Front-Row Storage Goes From Zero to Hero
There was a bunch of hoopla at the 2013 Los Angeles Auto Show surrounding the redesigned 2014 Nissan Rogue's improved cargo storage. It now has a shelf system and under-floor storage, and the sliding second-row seats make more room in the cargo area if needed. Despite those fantastic cargo features in my test of the Rogue, I was most impressed with the improved storage in the front row (photo above).
2014 Nissan Rogue's Cargo System Made for Family Life
Nissan had room for improvement with the 2014 Rogue's front storage areas because the previous generation had only one nook next to the cupholders. That single cubby (photo after jump) wasn't enough for all the little items — smartphone, lip balm, loose change — that need to be within the driver's reach.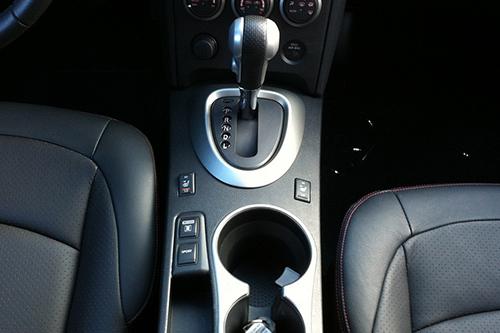 The 2014 Rogue improves on the storage front with a a small, but deep, cubby in front of the center cargo bin and a larger, grippy tray in front of the gearshift that can hold a smartphone or even a small carton of Goldfish crackers. It's not a big tray and it's not deep, but it gives me enough space to house random objects that need a place to live in any car.
The redesigned crossover's center cargo bin is now deep enough to fit water bottles that are standing and even a pack of wipes. The previous-generation Rogue's center cargo bin was not quite as deep. Speaking of water bottles, the door pockets now have bottle holders — another bonus.
The changes up front might not be as nifty as the rear cargo area, but they're just as welcomed.
Cars.com photos by Sara Lacey