2014 Mitsubishi Mirage Real-World Cargo Space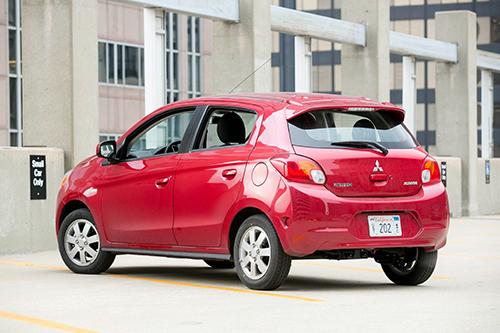 Mitsubishi has an answer for those asking where all the no-frills, super-lightweight subcompact cars with big gas mileage and a low MSRP have gone. The 2014 Mirage is of that ilk, with up to 40 mpg combined EPA fuel-economy ratings and a starting price of $13,790 with destination and a manual transmission; add $1,000 for the automatic transmission and its 40 mpg combined rating.
The four-door hatchback's micro size doesn't leave much room for rear passengers or cargo. Frugal commuters may not put too much importance on how many golf bags fit in the hatch without folding the seats — zero, actually — but the Mirage's small size results in a fuel-friendly 2,000 pounds.
The backseat folds in a standard 60/40 split; there's 17.2 cubic feet of space behind the seat. Cars.com news editor Jennifer Geiger was surprised by the spec:
"In truth, this number surprised me because it really doesn't look like that much space. A wide opening and low liftover help, however, and I was able to wedge a small umbrella stroller back there."
There's 47 cubic feet of maximum cargo space with the rear seat folded, while competitors like the Chevrolet Spark and Scion iQ have 31.2 cubic feet and 16.7 cubic feet, respectively. See our cargo animation below to view how well the Mirage carries luggage, a stroller and shopping bags.
Cars.com photos by Evan Sears