2015 Audi A3: First Drive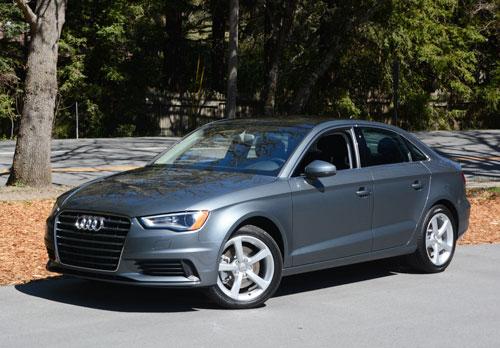 Driving Audi's all-new A3 sedan around the hills of Silicon Valley reveals a remarkable little car. Ride quality is outstanding, material quality is top notch and acceleration is impressive; the only letdown in the A3's performance is steering feel that's tuned more for ease than sport.
Under the hood, two powertrains are currently available for the A3 (more are coming). The base car starts out with a turbocharged 1.8-liter four-cylinder engine making 170 horsepower and 200 pounds-feet of torque that's sent only to the front wheels through Audi's S tronic six-speed dual-clutch automatic transmission. That may not seem like a lot of power, but it comes on surprisingly strong. If you keep the transmission in Sport mode, different algorithms will keep the turbo engine in the sweet spot to allow for more aggressive driving. It does experience a little torque steer, however, and it will even chirp the tires from a standing start, but it's by no means slow. This is a rare instance where the base engine is actually desirable.
2015 Audi A3 and S3 at the 2013 New York Auto Show
The more powerful engine is a turbocharged 2.0-liter four-cylinder that's mated only to Audi's Quattro all-wheel-drive system also through the six-speed automatic — no manual transmission is offered in the A3. It's pumping out a robust 220 hp and 258 pounds-feet of torque and is downright quick. Thanks to the all-wheel drive, torque steer is not a problem. Quattro adds 187 pounds to the A3 and takes out 2 cubic feet of trunk space, but the benefits to owners who live in inclement climates are real.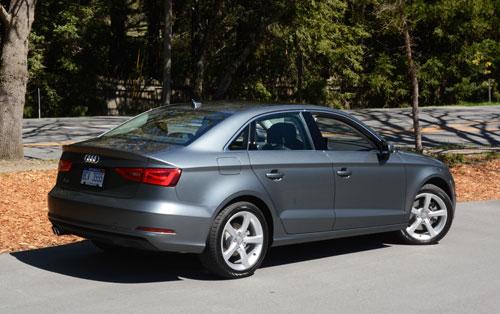 The 2.0T feels noticeably faster and surprisingly fuel economy is nearly identical for both models, 23/33/27 mpg city/highway/combined for the 1.8T and 24/33/27 mpg for the 2.0T. Neither is particularly impressive especially placed next to the Mercedes-Benz CLA250 at 26/38/30 mpg with front-wheel drive.
The A3 exhibits astonishing ride quality even with optional 18-inch wheels and summer tires fitted; 17-inch wheels with all-season tires are standard. Body control is exceptional, with the A3 riding like a much bigger car, exhibiting none of the harshness, bucking or choppiness that often comes with short-wheelbase vehicles. Road imperfections are met with a well-damped, muted whump with no unsettling motions transmitted to the driver at all. The suspension tune of the A3 just may be the car's best quality; it truly rides like a luxury car.
Handling, on the other hand, is less exemplary. The A3 features electromechanical power steering, and it is best described as joyless. Very little is communicated to the driver, and the effort is so light that it almost feels like operating an arcade game with minimal force-feedback. Sport sedan-like, it is not. Things improve somewhat if you check the box for the Sport Package, which includes the electronic Audi Drive Select. This allows the driver to switch between four modes — Dynamic, Comfort, Individual and Auto — each adjusting the steering effort, transmission behavior and throttle response curves for a sportier or more luxurious experience.
Increasing the steering effort to Dynamic mode makes a big difference in how the car feels, imparting a better sense of control over the steering, but feedback to the driver remains scant. My driving partner and I found ourselves backing off of aggressive driving in the A3 on twisty forest roads as there simply was little reward to it — other than making ourselves ill. Here's hoping the sport suspension package that will go on sale after the A3's launch improves this.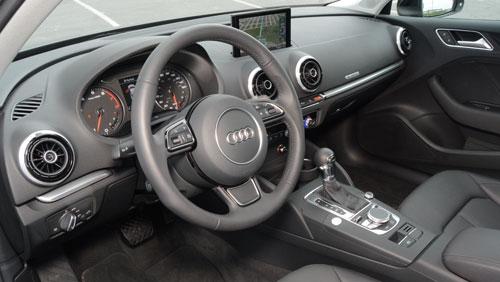 Inside, the A3 displays the typical high-quality materials, assembly and design that Audi products are known for. There are a few nods to cost cutting, such as the lack of individual map lights, rear door lock buttons that lock but don't unlock the doors and a row of blank dashboard switches that remind you of all the options you didn't order. But there are a few nice touches too, such as a standard panoramic moonroof, a well-integrated optional multimedia system that folds into the dash when not in use, standard leather seats, automatic climate control and more.
Room inside is fair for front passengers, keeping in mind that this is a luxury subcompact car; it is not necessarily best for family duty. But for a driver and passenger, there is adequate room up front in all dimensions, even if the seats are a bit short and narrow. The Sport Package, which adds sport seats with manually extending thigh support, addresses the shortness. The backseat is a different story. There is enough room under the front seats for rear-seat passengers' toes, so legroom comfort isn't awful, but the standard sunroof eats up rear headroom to a serious degree, making the rear seats uncomfortable for anyone approaching 6 feet tall. Surprisingly, front headroom is still plentiful despite the sunroof.
The new A3 starts at $30,795, including a destination fee, for a 1.8T front-wheel-drive car. The 2.0T jumps to $33,795 but includes Quattro all-wheel drive standard in addition to more power. Only three trims are available, Premium, Premium Plus and Prestige with either powertrain. Premium is the standard trim and includes leather seating surfaces, multifunction steering wheel, panoramic sunroof, bi-xenon headlights with LED head- and taillights, and satellite radio. Premium Plus adds 18-inch wheels, keyless entry with push-button start, dual-zone climate control, a power passenger seat and iPod integration. Prestige adds navigation, a Bang & Olufsen sound system, electronic safety aids such as a rearview camera and blind spot warning, full LED headlights and sporty exterior trim. Some options are available stand-alone like the navigation package with Audi connect and the premium sound system.
The new A3 joins the latest crop of small luxury sedans — Mercedes-Benz CLA, Buick Verano, Acura ILX — in the U.S., but there are some stark differences among the competitors. The Buick and Acura feel like small cars made better, while the Audi and Mercedes-Benz feel like better cars made small. There's a distinct difference in the quality feel and sophistication of the German offerings versus the competitors; the same sense that makes one balk at paying $33,000 for an Acura ILX makes you think paying $33,000 for a decently equipped A3 is reasonable. My pick would be a 1.8T equipped with the Audi drive control to firm up the steering. It's an impressive little car and will be an excellent introduction to the Audi brand if the company can bring in the new buyers it wants.
Cars.com photos by Aaron Bragman