2015 Ford Mustang Returns to Top of Empire State Building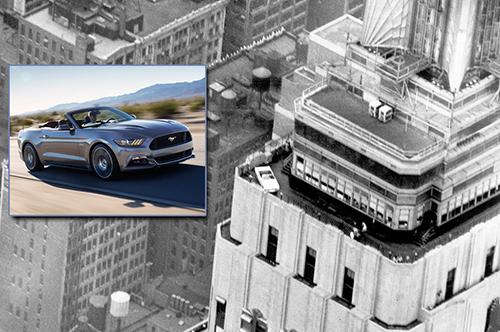 In 1957's "An Affair to Remember," Cary Grant and Deborah Kerr fall in love on an ocean liner to New York and agree to meet back up at the top of the Empire State Building to pick up where they left off. Well speaking of an affair to remember, America's romance with the Ford Mustang has never been forgotten, but the iconic muscle car's many admirers will still have the opportunity to fan their old flame next month atop the equally iconic skyscraper in Manhattan — right where they met a half-century earlier.
More 2015 Ford Mustang Convertible Photos
From 8 a.m. to 2 p.m. April 16 and 17, Ford will commemorate 50 years of continuous Mustang production by bringing the all-new 2015 Mustang convertible to the Empire State Building's 86th-floor observatory. Unlike a certain giant ape who climbed to the top of the 1,454-foot-tall edifice, this pony will take the elevator. The publicity stunt requires the car to be cut into multiple sections, transported up on wheeled carts and reassembled in the display area. That's also the way it was done the first time around with a prototype Mustang convertible, only now the 2015 version is 7 inches longer and 4 inches wider.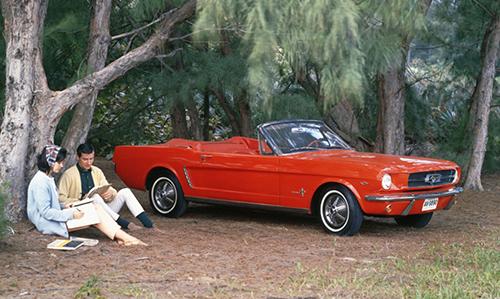 "New York is one of the greatest cities in the world, and it's the place where the Ford Mustang story began 50 years ago," Ford CEO Mark Fields said in a statement. "We're thrilled to be visiting the architectural landmark that has been the heart of the Manhattan skyline for 83 years with the newest generation of the car that is the soul of Ford Motor Company."
The first Mustang made its world debut via TV on April 16, 1964, and at the New York World's Fair on April 17, when it officially went on sale to a rush of orders numbering 22,000 just that day and 418,000 that year. The Empire State Building appearance came in 1965. Ford has since sold more than 9 million Mustangs. The redesigned 2015 Mustang, set to hit dealerships later this year, offers a turbocharged EcoBoost 2.3-liter four-cylinder engine and a 5.0-liter V-8 with more than 420 horsepower. The standard engine is still the 3.7-liter V-6, which will make more than 300 hp, according to Ford. Pricing has not yet been announced.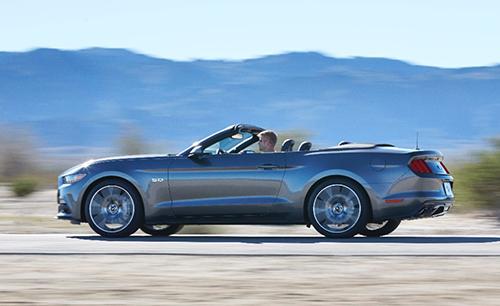 Manufacturer photos