Gas Prices at Nearly Six-Month High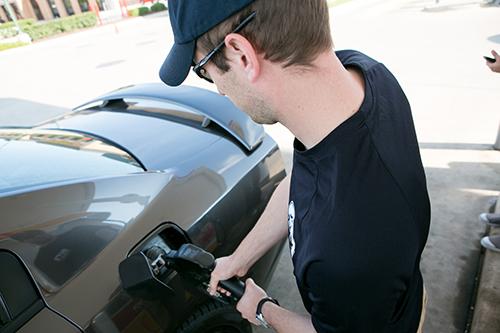 The national average pump price for regular unleaded gas rose 3 cents per gallon in the past week to $3.50, the highest level in nearly six months, the AAA Daily Fuel Gauge Report said Thursday.
More Fuel Efficiency News on Cars.com
Gas prices have jumped an average of 19 cents over the past month nationally, though some states have experienced larger increases. For example, since Feb. 13 prices have climbed 29 cents in California to $3.94; 30 cents in Illinois and Michigan to $3.74 and $3.73, respectively; and 40 cents in Colorado to $3.62.
In the past week, Washington state motorists saw pump prices increase 7 cents to $3.58, and in Oregon, the average price for a gallon of regular unleaded increased by 8 cents to $3.56.
In contrast, prices have moved up by only 12 cents in the last month in Southeastern states such as Tennessee, Virginia and South Carolina, which as of Thursday had the lowest statewide average at $3.20 per gallon. Among other states with lower prices are Alabama and Mississippi, $3.22; Tennessee, $3.24; Louisiana, Montana and Texas, $3.26; and Arkansas and Virginia, $3.27.
Hawaii had the most expensive gas, $4.15 for regular unleaded, followed by California, $3.94; Alaska, $3.83; and Connecticut and New York, $3.77.
The average pump price for diesel fuel was unchanged from last week at $4.01. Diesel prices have risen only 7 cents since Feb. 13.
AAA said despite the recent price increases, the $3.50 national average for regular unleaded is 21 cents less than a year ago, and it repeated an earlier prediction that prices this year will peak between $3.55 and $3.75 in the next month or so as refineries finish seasonal maintenance and switch over to summer gas blends. Last year, prices peaked at $3.79 on Feb. 27, the earliest on record. Crude oil prices also have fallen below $100 a barrel after trading at more than $100 for three weeks, which could help keep a lid on gas prices.
Unscheduled refinery maintenance or fallout from political events such as the Russian-Ukraine standoff could cause prices to go higher than expected this spring, AAA noted.
Cars.com photo by Evan Sears