Gas Prices Continue to Climb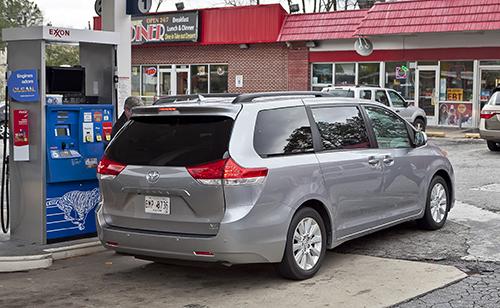 The national average price for gasoline continued to climb the past week, moving up 3 cents a gallon to $3.53 for regular unleaded, but some states experienced much larger increases.
Prices jumped by 12 cents in Kentucky to $3.59 a gallon, the AAA Daily Fuel Gauge Report showed Thursday. Texans saw pump prices rise 8 cents a gallon to a statewide average of $3.34. Regular unleaded increased by 7 cents in Alabama and 6 cents in Arkansas, Mississippi and Virginia, though those states still ranked among places with lower pump prices. The statewide average was $3.28 in Mississippi, $3.29 in Alabama, and $3.33 in Arkansas and Virginia.
South Carolina had the cheapest gas at $3.24, followed by Montana, $3.27, and Tennessee and Mississippi, $3.28.
The most expensive gas again was in Hawaii, where the average went up 3 cents to $4.18. California was second-highest at $3.97, followed by Alaska at $3.84, and Connecticut, Illinois and New York at $3.77. Prices have leveled off in Connecticut and New York in recent weeks but have continued to climb in Illinois — 28 cents in the past month.
Prices had been marching upwards in Indiana and Michigan since early February but made a U-turn in both states the past week, falling 3 cents in Michigan to $3.67 and 6 cents in Indiana to $3.62.
Diesel fuel was unchanged at a national average of $4.01 a gallon. Diesel's average price hasn't increased as much as gas, rising by just 7 cents in the past month. In comparison, regular unleaded has increased 19 cents since March 20.
AAA noted that prices typically increase in early spring because of routine refinery maintenance and a required changeover to summer gas blends in many parts of the country. Gas in most areas contains a blend of as much as 10 percent ethanol, and AAA said a shortage of ethanol could be adding upward pressure on gas prices, particularly on the coasts.
AAA expects pump prices to top out at between $3.55 and $3.75 a gallon by early April, below 2013's peak of $3.79 and 2012's peak of $3.95. The current national average of $3.53 for gas is 17 cents less than it was a year ago, and diesel is 7 cents cheaper than a year ago.
Cars.com photo by Evan Sears