Gas Prices Rise Fast in Midwest, California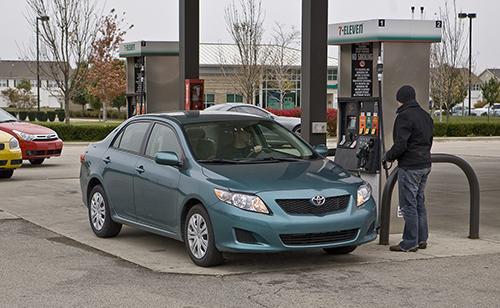 If it seems like you're spending more each time you fill your tank, it probably isn't just your imagination. Gas prices have continued to climb nationally, and some states are experiencing significant increases on a weekly basis.
Fuel Efficiency News on Cars.com
The average pump price for a gallon of regular unleaded gas in Indiana rose 9 cents during the past week to $3.62, the AAA Daily Fuel Gauge reported Thursday. Next door in Illinois, prices climbed 11 cents to $3.71 a gallon, and in Michigan they shot up 13 cents to $3.70.
In the past four weeks, average prices have increased by 29 cents in Michigan and 35 cents in Illinois and Indiana. In Colorado, the $3.58 average is 39 cents higher than a month ago, and California's $3.89 average is 30 cents higher than on Feb. 6. Ohio motorists also have seen a 30-cent increase in the past month, to $3.59.
AAA said the national average for a gallon of regular unleaded was $3.47 on Thursday, 3 cents higher than a week ago and 20 cents more than a month ago. The average was 26 cents lower than a year ago, when prices shot up at a faster clip. Hawaii had the highest-priced gas, $4.12 a gallon, followed by California, $3.89; Alaska, $3.81, and Connecticut and New York, $3.76.
South Carolina had the cheapest gas at $3.18, the only state to average less than $3.20. Pump prices averaged $3.21 in Alabama and Mississippi, $3.22 in Montana and Tennessee, and $3.23 in Texas.
Diesel fuel prices rose by only a penny the past week to a $4.01 national average. That's 10 cents more than a month ago but 10 cents less than a year ago. AAA noted that, last year, prices peaked at $3.79 on Feb. 27, the earliest peak on record. This year, the organization expects prices will continue to climb during spring but fall short of the 2013 peak. AAA forecasts prices will top out this spring between $3.55 and $3.75, though it added that the escalating tensions between Russia and Ukraine could impact the global oil supply and change its forecast.