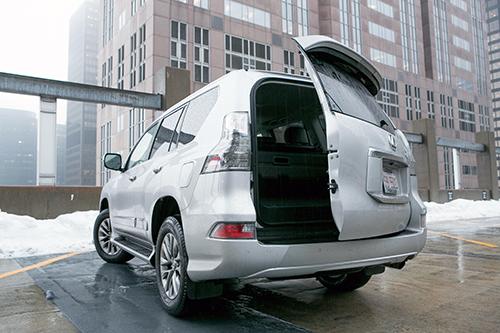 From the outside, it doesn't look like the 2014 Lexus GX 460 can seat seven occupants on three rows of seats. Some three-row SUVs are appropriately massive looking, but the GX doesn't look like it should have enough room for three rows. It does, but just barely.
2014 Lexus GX 460 Expert Review
Behind the third row is a skimpy 11.6 cubic feet of cargo room. Cars.com reviewer Mike Hanley says the cargo room behind the third row isn't very usable because the third row nearly touches the rear window. There's not much space for taller objects since the third row and window almost meet. Folding the third row uncorks 46.7 cubic feet on its way to a maximum 64.7 cubic feet of cargo space.
The Land Rover LR4 and Audi Q7 offer more total cargo room with 90.3 cubic feet and 72.5 cubic feet, respectively, though the GX is slightly ahead of the LR4 and Q7 with more cargo space behind the third row; LR4 is 9.9 and Q7 is 10.9.
See how well common items fit into the cargo area in the animation below.
Cars.com photos by Evan Sears