2015 BMW M4 Convertible: More Photos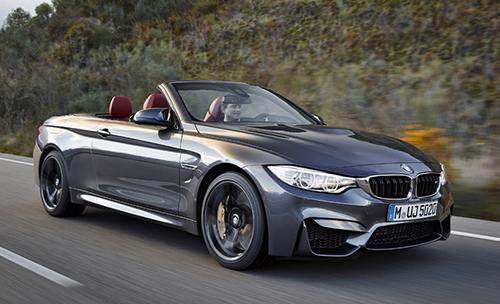 The convertible counterpart to the BMW M3 sedan — the M4 — is back for 2015 and hitting showrooms this summer just in time for droptop weather. We'll be warming up to the M4 later this week at the 2014 New York International Auto Show, but what we already know is that the luxury two-door is substantially lighter thanks to extensive use of aluminum and carbon-fiber materials, and more powerful thanks to horsepower and torque increases for its twin-turbocharged 3.0-liter V-6, despite shedding a couple of cylinders from the previous model.
2015 M4 Convertible Joins BMW Lineup
BMW says the power hardtop retracts in just 20 seconds, and with the automatic transmission the M4 gets to 60 mph in 4.2 seconds, so buyers won't have to wait long to feel some wind in their hair come summer. Until then, check out the gallery below.
Manufacturer photos