2015 BMW M4 Convertible Photo Gallery (25 Photos)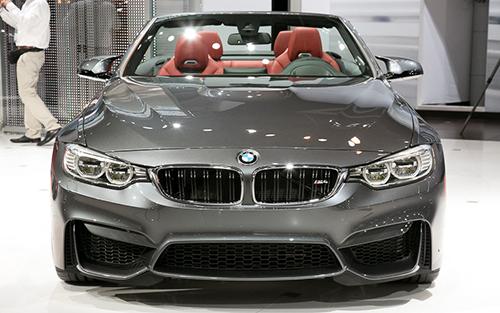 The curtain dropped on the droptop version of the 2015 BMW M4 this morning at the 2014 New York International Auto Show, and Cars.com was there to share airspace with the luxury sports car. We first saw the 2015 M4 – the M3 sedan's two-door sibling – back in January at the 2014 North American International Auto Show in Detroit, and knew then that a convertible could not be far behind.
More 2014 New York Auto Show Coverage
Like the coupe, the convertible uses a 425-horsepower, 3.0-liter twin-turbocharged six-cylinder; it scoots from zero to 60 mph in 4.2 seconds on its way to a top speed of 155 mph. Also like the coupe, the spoiler-less convertible has a reworked bumper with larger air intakes and frontal air curtains to redirect airflow. Meanwhile, interior cues include M badging, sport seats and steering wheel, and carbon-fiber trim.
Check out the gallery below; Cars.com photos by Evan Sears