2015 Chevrolet Corvette Z06 Convertible: First Look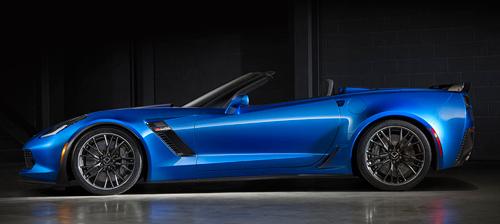 Competes with: Porsche 911 Carrera S Cabriolet, Audi R8 Spyder, BMW M6 convertible
Looks like: A convertible ripe for a superhero movie appearance
Powertrains: 625-hp (est.), supercharged 6.2-liter V-8; seven-speed manual or eight-speed automatic transmission
Hits dealerships: Early 2015
Chevrolet's Z06 continues to appeal to a wider range of buyers with the introduction of a 2015 Corvette Z06 convertible at the 2014 New York International Auto Show. Recent generations have only had a hardtop with a manual transmission until the 2015 Z06 coupe debuted at the 2014 North American International Auto Show in Detroit with a removable center roof and an automatic transmission.
More 2014 New York Auto Show News
Chevrolet says the 2015 Z06 convertible is its most powerful ever made, producing an estimated 625 horsepower from the Z06's supercharged V-8.
The Z06 convertible's power-operated cloth top opens and closes at speeds up to 30 mph. The top is offered in four colors and features a glass rear window and sound-absorbing padding. The Corvette convertible's body-colored "Waterfall" design of the tonneau cover remains a staple of the interior, flowing between the seats.
Changes between the Z06 coupe and convertible are few, though the tonneau cover required moving air cooling ducts for the transmission and differential coolers to the underbody instead of in the quarter panels. Otherwise, the Z06 convertible is nearly identical to the coupe and required only minor changes to provide a drop-top experience.
"Until recently it was not possible to create a lightweight, open-roof structure strong enough to cope with the braking, cornering and acceleration of Corvette's top performance models," says Corvette chief engineer Tadge Juechter.
The new Z06's chassis is rigid enough to not need additional bracing or structural reinforcement — items that typically add weight. Chevrolet says the curb weight is nearly identical to the Z06 coupe. The hardcore Z07 Package from the coupe and other performance-oriented Z06 features are items you'll find on the convertible as well.