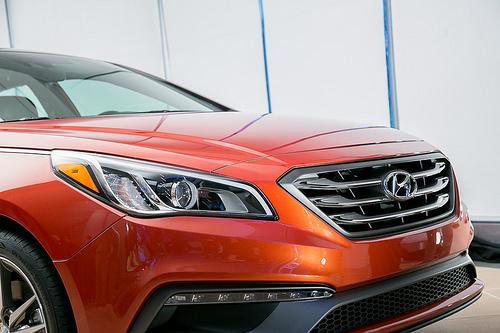 When the prior-generation Sonata debuted as a 2011 model it made waves with a daring design that challenged conservatively styled competitors. Fast-forward a few years and Hyundai has a new Sonata and the 2015 Sonata is unlikely to create the kind of stir its predecessor did. The new sedan is handsome, but there's enough of the old version that casual observers could easily confuse them.
More 2014 New York Auto Show Coverage
The 2015 Sonata retains its distinctive coupe-like profile, and it seems even more pronounced now as the rear roof pillars extend nearly to the tail. This makes for a very short trunklid, and also makes the rear-quarter angle one of the car's best.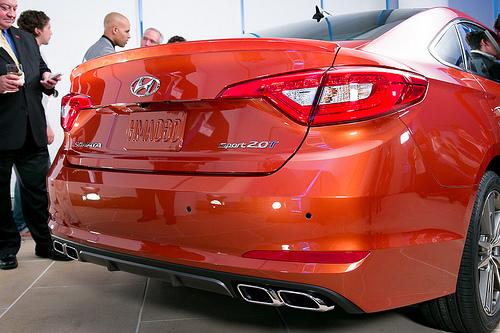 Hyundai brought the sportiest version of the Sonata, a 2.0T trim level, to the auto show, and its quad exhaust tips are an unexpected but nice-looking touch. However, the black parking sensors dotting the rear bumper looked odd against the burnt orange paint color; most automakers go with body-color sensors these days.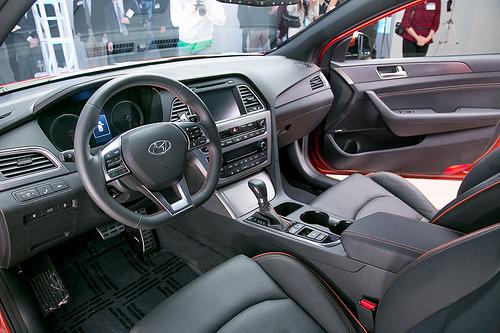 The new interior makes generous use of soft-touch materials in places you're likely to come in contact with, like the upper door trim and door grips, and rear-seat passengers benefit as well. The angular dashboard isn't short on buttons, but they're sensibly arranged and knobs are used where they make sense, like for stereo volume and tuning, and adjusting cabin temperature.
Many automakers are adding capacitive touch controls in place of physical buttons, oftentimes to the detriment of usability, but Hyundai thankfully didn't go there. There is an available touch-screen navigation system that responds to smartphone-style inputs, like swiping to view different apps. Front-seat comfort is good as well as over-shoulder visibility.
Backseat legroom is comparable to the family sedan class, perhaps a little better, and a low center floor hump — it's only an inch or so high — should preclude a fight for foot space when all three seats are taken. The car's sleek roofline doesn't diminish backseat headroom; I'm 6-foot-1 and had about an inch to spare.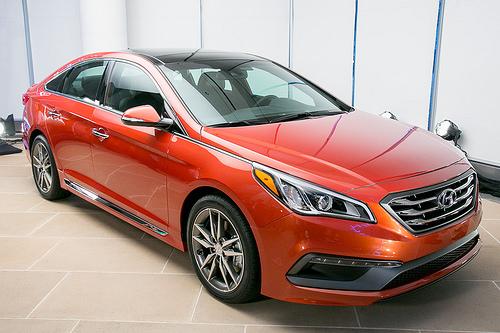 The new Sonata is a refined-looking sedan inside and out, but it doesn't have the wow-factor that accompanied its predecessor's debut and the launch of competitors like the new Ford Fusion. Whether that affects shopper interest remains to be seen. Let us know in the comments what you think of the car and its chances in the market.