2015 Kia Sedona: Up Close
With its upright grille and angular headlights, the redesigned Sedona looks tougher than the average minivan. The crossover-like styling is on purpose, and it's immediately apparent in that front end and also the hood lines. Overall, the execution is more successful than when GM tried the same thing with its Chevrolet Uplander van.
More 2014 New York Auto Show Coverage
The avoidance of traditional minivan cues continues in the cabin as the Sedona gets a large center console between the front seats that houses the gear selector — just like any number of crossovers. This may seem like a small thing, but it significantly changes your perception of the interior; it doesn't feel like you're sitting in the driver's seat of a minivan.
Interior quality is good for the class, with high-grade finishes throughout the cabin. Materials quality is a step up from the Honda Odyssey and Toyota Sienna, which have some cheap-looking surfaces.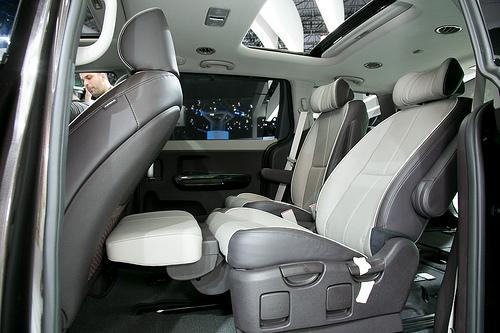 Kia also adds available second-row seats that slide far backward and incorporate flip-out leg rests.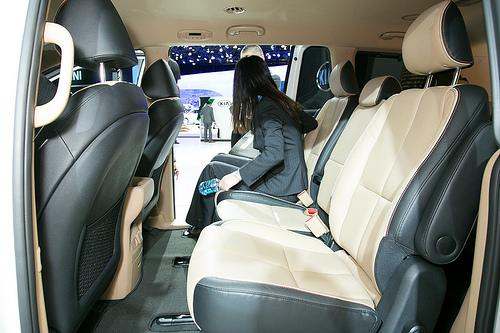 Alternatively, there are second-row bucket seats that stack vertically behind the front seats with a pull of a lever. It's an interesting approach to the problem of what to do with heavy, bulky bucket seats when you need more cargo space, but it's not a perfect solution as you lose about a foot of cargo room that would otherwise be available if you removed the seats.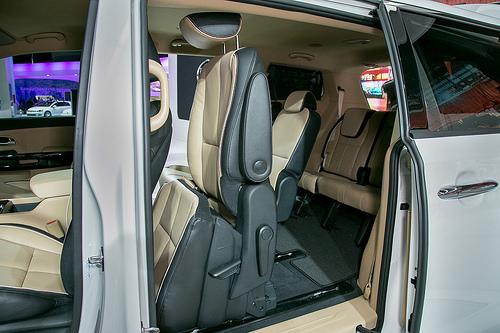 The split third-row seat folds into a well in the floor like the competition, but the process of stowing the seat is more cumbersome compared to the Odyssey.
These days, you're more likely to hear about an automaker leaving the minivan segment than introducing an all-new model. The Sedona is yet another example of Kia bringing to market a model that challenges the hierarchy in a particular segment. It should make things interesting.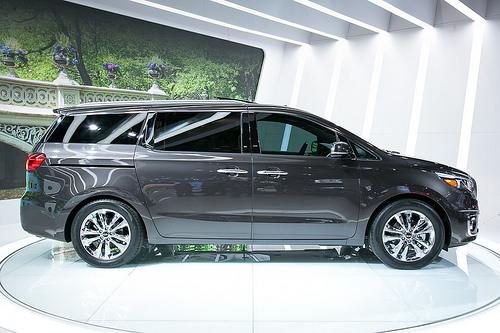 Cars.com photos by Evan Sears