2015 M4 Convertible Joins BMW Lineup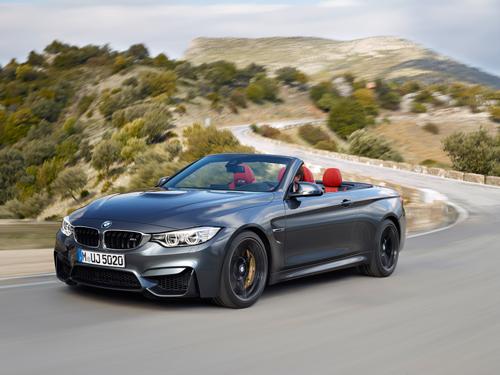 When BMW unveiled its updated M3 sedan and M4 coupe we knew it'd only be a matter of time before a droptop version joined the lineup. Today, BMW announced details of the 2015 M4 convertible, which will go on sale alongside the sedan and coupe this summer.
BMW says the M4 convertible is around 90 pounds lighter than its predecessor, the M3 convertible, thanks to heavy use of lightweight aluminum in the front fenders, hood and chassis. Lightweight carbon-fiber-reinforced plastic components also help keep the weight down.
As in the M3 sedan and M4 coupe (the M4 replaced the prior-gen M3 coupe), the convertible uses a twin-turbocharged 3.0-liter inline-six-cylinder engine that BMW says is good for 425 horsepower and 406 pounds-feet of torque; that's more powerful than the outgoing V-8. Two transmissions are available: a six-speed manual or seven-speed dual-clutch automated manual. The M4 convertible's top speed is 155 mph, and BMW pegs its zero to 60 time at 4.4 seconds with the manual and 4.2 seconds with the automatic.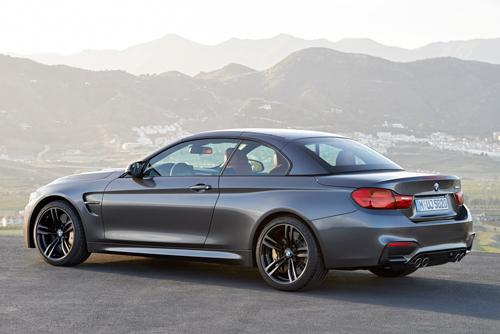 Trunk space is up slightly this year to 13 cubic feet, which is impressive for a compact convertible. A pass-through from the backseat to the trunk is standard. The power hardtop can be retracted in 20 seconds, according to BMW, and at speeds up to approximately 11 mph.
Prices have not yet been announced, but we'll be able to get a closer look at the M4 convertible after its debut at the 2014 New York International Auto Show later this month.
Manufacturer photos