2015 Nissan Murano: First Look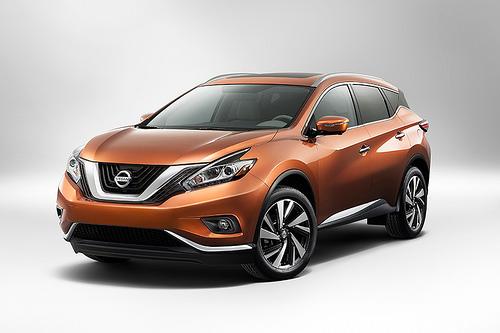 Competes with: Ford Edge, Kia Sorento, Hyundai Santa Fe Sport, Jeep Grand Cherokee
Looks like: 2013 Nissan Resonance concept SUV
Powertrains: 260-hp, 3.5-liter V-6, continuously variable automatic transmission, front- or all-wheel drive
Hits dealerships: Late 2014
Nissan has two SUV flavors in its showrooms. If you need family-hauler, there's the seven-passenger Pathfinder. If you just want style, all-weather functionality and really only need room for five passengers, there's the Pathfinder's quirky younger sibling, the Murano.
More 2014 New York Auto Show Coverage
Nissan has redone the Murano for 2015 and will introduce it at this week's 2014 New York International Auto Show, showing off a new version that takes its styling cues from the Nissan Resonance concept car unveiled at the 2013 North American International Auto Show in Detroit.
Exterior
The new Murano most obviously resembles the concept outside, where Nissan didn't tone down the Resonance's wild looks all that much. There's a whole lot of styling going on, such as the "floating" roof element that looks like it's a separate piece from the rest of the body and the boomerang-style headlights that incorporate LED daytime running lights. LED headlights are optional. The slipperier overall shape has resulted in a 16 percent improvement in aerodynamics, and the new Murano comes in longer, lower and wider than the previous version. In the back, the standard LED taillights are wild, giving the Murano an avant-garde look that is sure to be polarizing.

Interior
Nissan carries the futuristic theme inside with an "upscale social lounge" design that is much more premium looking than the Pathfinder's interior. The cabin's dashboard and center console are lower than they were in the previous Murano to improve outward visibility and a sense of spaciousness, with a new 8-inch color touch-screen in the center stack (a 7-inch screen now resides in the gauge cluster). The number of buttons and switches for the multimedia system has been dramatically reduced as well, from 25 to 10, to provide a less cluttered and user-friendlier experience.
Nissan's "Zero-Gravity" seats are standard for both front and rear occupants, with the rear seats employing a three-cushion design; heated and cooled seats are available for the front row. Heated seats are an option for the backseat. While you're in them, gaze up and enjoy the new panoramic sunroof that's 29 percent larger and opens wider with a 40 percent increase in sliding length. The Murano does better as a cargo-hauling SUV as well, with a reconfigured cargo area that can now accommodate four large suitcases; the rear seats now fold flat.
Under the Hood
The Murano's powertrain carries over from the last version, sporting Nissan's 3.5-liter V-6 rated at 260 horsepower and mated to a standard continuously variable automatic transmission. Along with a weight loss of 130 pounds and aerodynamic improvements, the powertrain has been retuned to provide an estimated fuel-economy bump of about 20 percent, according to Nissan's estimates. Front-wheel drive is again standard, with all-wheel drive optional.
Safety
Nissan is offering something new for the Murano with a suite of four on-board cameras (front, rear and two side) and three radar systems to provide a variety of safety systems including blind spot warning, forward collision warning, forward emergency braking, adaptive cruise control, rear cross-traffic alert and an advanced parking assist system that can detect moving objects in the vehicle's path.
Manufacturer images