2015 Nissan Murano Photo Gallery (40 Photos)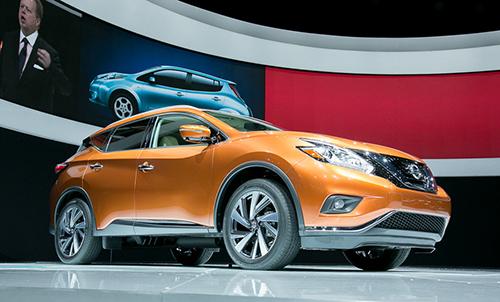 More often than not, when a concept car moves to production, little of the flashiness and daring design that made it an eye-catcher in the first place actually make it to the dealer showroom. That's not the case with the 2015 Nissan Murano, now making a spectacle of itself at the 2014 New York International Auto Show. The new Murano's prototype, the Resonance concept, introduced the crossover's bold exterior styling back in January at the 2014 North American International Auto Show in Detroit.
More 2014 New York Auto Show Coverage
Surprisingly, much of that design translates to the production version, notably the "floating" roof element, boomerang-style headlights, kooky LED taillights and overall aerodynamic shape. Meanwhile, the forward-looking interior adopts an "upscale social lounge" design, says Nissan.
Check out the gallery below; Cars.com photos by Evan Sears.