2015 Nissan Murano: Up Close
Nissan's Murano has always been a bit weird. While most SUVs have morphed into a common look across manufacturers, the Murano always did its own thing. Now Nissan has updated the Murano, giving it its first true complete redesign, and the look is just as wild as ever.
More 2014 New York Auto Show Coverage
At first glance, one might think that the 2015 Murano is almost overstyled, with lines, creases, folds, streaks, fins and slats from bumper to rump. The resemblance to Nissan's Resonance concept car is strong, but it works.
The Murano won't be confused for anything else on the road, and in person it looks highly futuristic and unabashedly unique. The best angle is perhaps the rear three-quarters, where the strength of the Murano's lines becomes most evident and the dramatic taillights are most prominent. Kudos to Nissan for sticking with this decidedly unusual and standout design.
Inside, Nissan is doing some new things with materials, creating a luxurious environment to keep four passengers happy. Despite supposedly having room for five occupants, the Murano is still tight inside in terms of rear passenger space, both in width and headroom.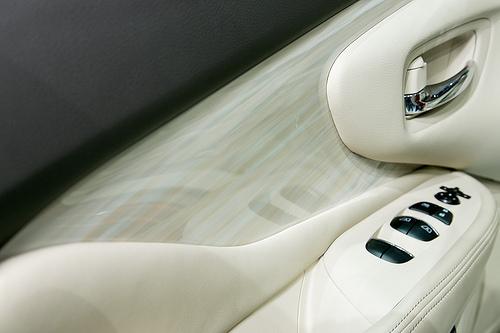 There is no wood trim in the new Murano - instead, metal and new patterns of plastic trim create a light, airy and decidedly upscale feel to the cabin. The vehicle Nissan has on display at the 2014 New York International Auto Show has a mother-of-pearl-like plastic trim that has an almost pinkish hue to it, and while it's not likely to be to everyone's liking, it's definitely striking and unique. For those wanting a more somber interior, black and mocha color palettes with "titanium" metal trim are also available.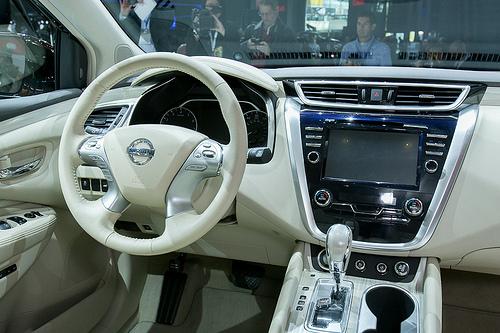 Nissan's updated electronics are also a step in the right direction, with the latest system in the Murano bearing a strong resemblance to the layout Chrysler uses for its Uconnect multimedia system. This is a good thing, as it means the Murano (and hopefully other future Nissans) will gain an easy-to-use system that requires minimal attention from the driver.
Another LCD screen between the instrument gauges also features graphics that look modern.
The Murano's update is a solid one that gives shoppers another choice for SUVs at the Nissan dealer. The Pathfinder is perfect for families, the Rogue for smaller clans with more limited funds, while the Murano may be the all-wheel-drive stuff-hauler for buyers who put style ahead of function.
Cars.com photos by Evan Sears