Gas Prices 14 Cents Higher Than a Year Ago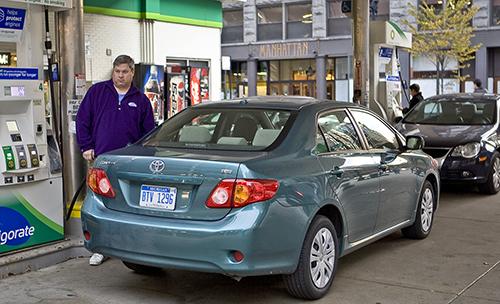 Gas prices climbed another 5 cents the past week to a national average of $3.66 for a gallon of regular unleaded, according to Thursday's AAA Daily Fuel Gauge Report, and motorists in all but a handful of states saw pump prices move higher.
Which 3-Row SUV Gets the Best Mileage?
Drivers in California experienced the biggest increase, AAA reported. Pump prices surged 13 cents in the past week to a statewide average of $4.20. California had the most expensive gas except for Hawaii, which averaged $4.33 as of Thursday.
Southern Californians were generally paying the highest prices in that state. Prices jumped 15 cents to $4.27 in San Diego and to $4.30 in Los Angeles. In San Francisco, the average price was $4.22, 11 cents higher than a week ago.
Gas in Chicago was almost as expensive as in Los Angeles. Chicago's average pump price rose 8 cents the past week to $4.28, the highest in Illinois because of higher taxes compared to the rest of the state. The average for Illinois rose 6 cents to $3.90, behind only California among the 48 contiguous states.
Other areas with high pump prices include Washington, D.C., $3.86; Alaska, $3.83; Connecticut and New York, $3.82; Michigan, $3.80; and Indiana, $3.79.
Utah had the cheapest gas at $3.32, unchanged from a week ago. Among the few states that didn't see higher prices the past week, gas dropped by a penny in Colorado to $3.55 and by 2 cents in Kentucky to $3.69.
Prices rose by 4 cents in Montana to $3.34 and in New Jersey to $3.42, and by 1 cent in New Mexico to $3.44, but those states still were among those with the lowest prices. The national average for diesel fuel was unchanged from a week ago at $3.96. That's 4 cents less than a month ago and 1 cent higher than a year ago.
The $3.66 national average for regular unleaded is 14 cents higher than a month ago and on April 17, 2013. Gas prices peaked at $3.79 last year on Feb. 27, earlier than usual, and were declining at this time a year ago.
AAA has predicted that prices will top out at $3.75 or less this year, but that the peak will come near the end of April or later. In its weekly commentary on gas prices, AAA said refiners must switch to summer-blend gasoline production by May 1. That annual changeover, along with seasonal and unscheduled refinery maintenance, can temporarily reduce the supply of gas on a regional or local basis at the same time demand starts to pick up, resulting in higher prices.
One such example was in the Memphis area, where unexpected refinery maintenance recently disrupted the supply of gas. Pump prices averaged $3.49 in the Memphis area Thursday, 19 cents higher than a month ago.
Though prices have been on a steady climb in recent weeks, not everyone is paying more today than they did at this time last year. Prices are 21 cents higher than a year ago in Alabama and 23 cents higher in California and Illinois, but Arizona's average of $3.46 is 11 cents lower than a year ago, and Utah's price is 21 cents lower.
Cars.com photo by Evan Sears