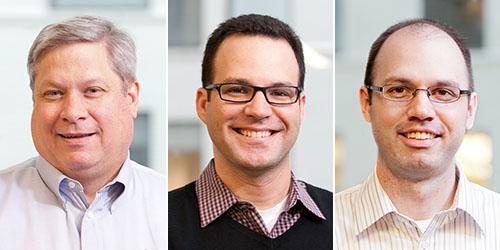 Along with a couple of busy moms, a number of hands-on dads also work as editors on the Cars.com Editorial team. Whether driving to school, lugging sports equipment and tutus, or commuting to work, the Cars.com dads spend many hours each week driving and (later) writing about cars. Together, our dads have a combined 70 years of parenting experience — that's a lot of road trips and carpool drop-offs!
Read More #FamilyCarAdvice
Continue below to meet three of our dads.
Patrick Olsen, Editor-in-Chief
A native of Los Angeles, I have worked as a journalist for more than two decades in both the Chicago and L.A. areas. As Cars.com's EIC, I work with this great team to bring you all the news, research and advice you'll need to buy your next car. I'm not a gearhead, but more of a fan of how cars are becoming smarter, more comfortable and more fun.
How Old Are Your Kids? My wife and I have three kids, ages 20, 19 and 17.
What Does Your Family Drive? We have two vehicles: A 2003 Honda Pilot that we use most often when we're all traveling together and a 2005 Ford Escape. We bought both used.
What's Your Family's Favorite Activity? At home, it's playing card games or football in the backyard, but in the car, it's long-distance trips to places like Denver, upstate New York, etc.
David Thomas, Managing Editor
I'm a busy dad routinely shuttling both children in the latest test car in the fleet. By the time my son Carter was 3, he could identify pretty much every car by its badge. I oversee Cars.com's news blog KickingTires as well as help reach car shoppers via social media. Like the rest of our team, I try to keep my hands in a bit of everything and review new cars, take part in our Challenges and even "star" in a video or two. I have a thing for wagons, but secretly, I lust for a BMW M3 and lately have fallen for the Infiniti QX60.
How Old Are Your Kids? My wife and I have a 6-year-old son and 4-year-old daughter.
What Does Your Family Drive? We own two wagons. The family's daily driver is a 2010 Subaru Outback, which we love for its practicality and winter-weather prowess. We also have a 2005 Volkswagen Passat wagon that is used whenever I have the kids and a test car is not family-friendly. The wagons are truly a part of the family, shuttling the children to school, to see the grandparents and on summer road trips.
What's Your Family's Favorite Activity? We try to stay as active as possible and go to every park within a 5-mile radius, sledding in winter and to the beach in the summer.
Mike Hanley, Research Editor
I started at Cars.com in 2002, and I'm currently one of the site's resident car reviewers. I also edit a lot of the content that appears in the Research section. I've been a car enthusiast for as long as I can remember and always enjoy going to summertime car shows. My current project car is a 1987 BMW 325e, but with two young boys, I'm more often behind the wheel of our 2012 Honda Odyssey minivan. It's been able to carry all of my kids' stuff so far, including a racecar bed for my older son.
How Old Are Your Kids? My wife and I have two boys, ages 3 and 1.
What Does Your Family Drive? A 2012 Honda Odyssey.
What's Your Family's Favorite Activity? We like taking walks to different neighborhood playgrounds in the summer.